Regular price
Sale price
EUR 107,93
Unit price
per
Sale
Sold out
Lowest price last 30 days: (November 10, 2023)
Free express shipping

Free express shipping via courier on all orders over 250 EUR
Shipping & Returns

| | | |
| --- | --- | --- |
| Destination | Express shipping via Fedex | Polish National Postal Service |
|  Europe | 2-7 business days | 1-2 weeks |
| Asia | 2-5 business days | not available |
| US/Canada | 2-3 business days | not available |
| Australia | 3-4 business days | not available |

 

*Please note that the above delivery times may be extended due to custom duty procedure.

 

1. The Goods purchased in the Online Store are delivered worldwide, subject to territorial restrictions under applicable laws.
2. The Goods are delivered via specialised courier companies or Poczta Polska (the Polish national postal operator). In some cases, the Goods may be personally collected from the Seller's registered office, and in the case of the Goods that represent digital content – they may be downloaded on an appropriate device.
3. The Goods are shipped within 1 to 3 (one to three) business days from payment booking. In some cases, the Goods can be shipped at a later date. This applies also to the Goods sold in advance (pre-sale). In such a case, the Seller shall inform the Client about a shipment date. An approximate shipment delivery date depends on a delivery method selected and a destination country, and is specified at order placement. When selecting a transfer payment option, the delivery time indicated on the Website shall be increased by time needed to credit the Client's entire payment to the Seller's bank account, usually 1-2 (one to two) business days. Further, in the case of countries outside the European Union, due to distance and potential customs controls the delivery time may be prolonged up to 5 weeks.
4. Detailed delivery method information is available in the Online Store in a Cart section of the given Product.
5. The Goods are shipped to an address specified in an order form or provided by phone or by e-mail. The Seller shall promptly inform the Client about the fact that an order form has been filled in incorrectly if this prevents or delays the conclusion of the Sales Agreement or the delivery of the Goods.
6. Prior to the acceptance of shipment from a postal or a courier service, packaging should be checked for any potential damage inflicted in transport. In particular, the condition of tapes or seals placed on the shipment shall be verified. If shipment package shows any signs of damage or if the seals (tapes) are removed, the shipment shall not be accepted, a damage report shall be prepared in the presence of a courier and the Seller shall be contacted as soon as possible in order to clarify the issue. If discrepancies in terms of shipment quantity or quality are not detected at the acceptance, this might adversely affect the resolution of the Client's claims filed due to shipment damage or theft in transport.
7. In the case of the Goods that represent the firmware upgrade of devices distributed by the Seller (digital content), the Client, upon the placement of the Order, conclusion of the Sales Agreement and payment, shall connect to a GATE CONTROL STATION desktop application via a USB-Link or Blu-Link device and install the upgrade purchased.
View full details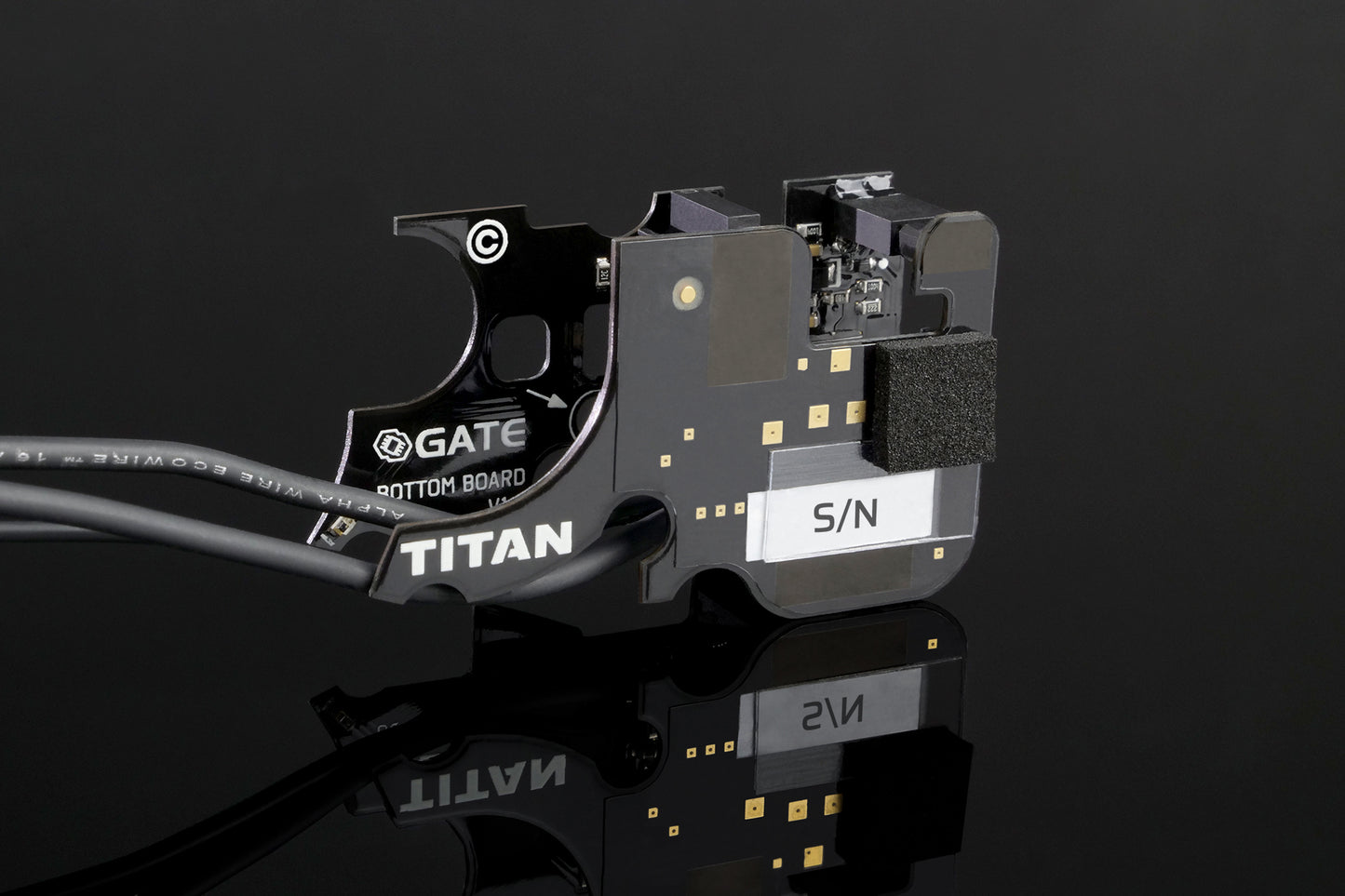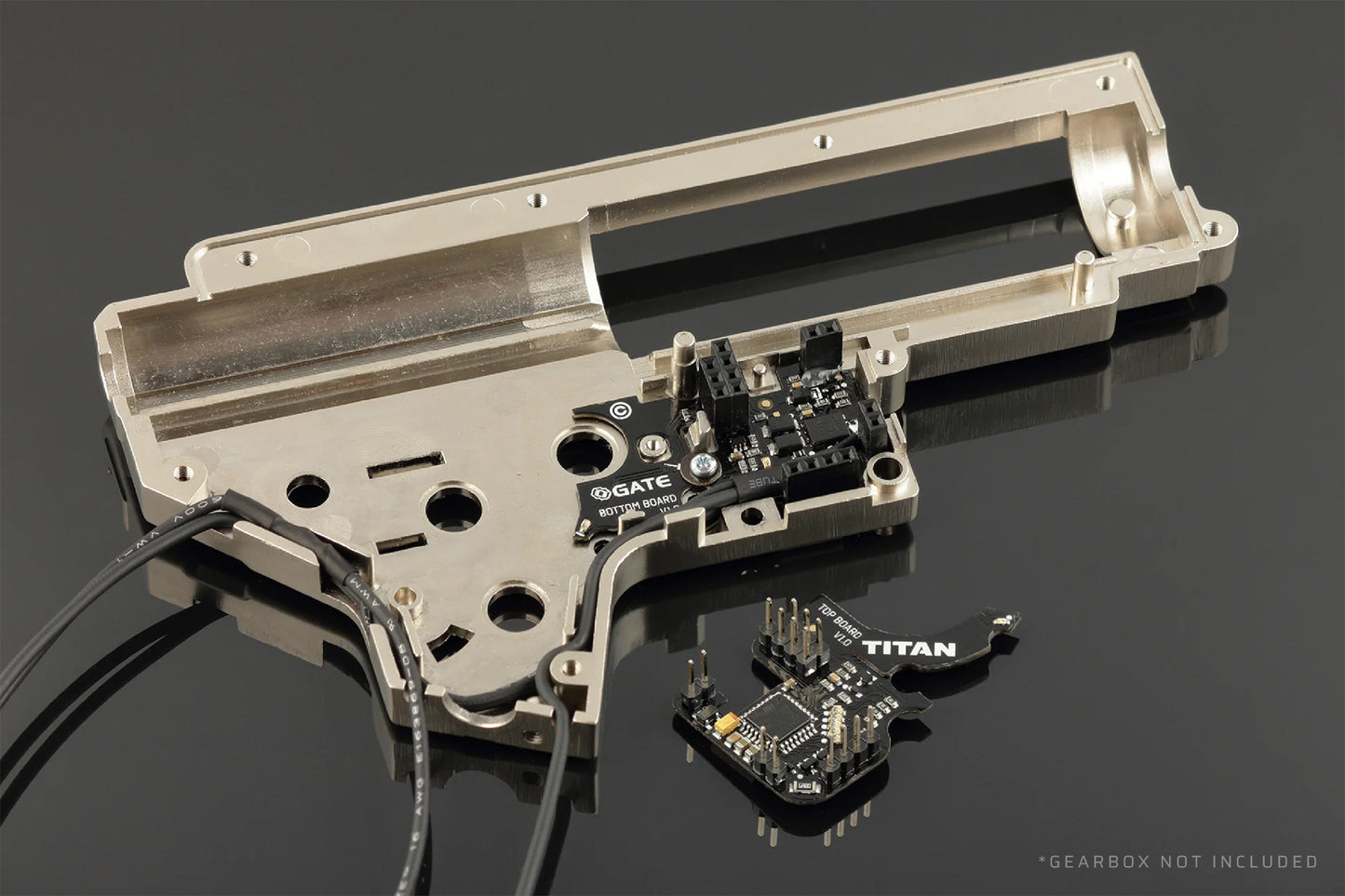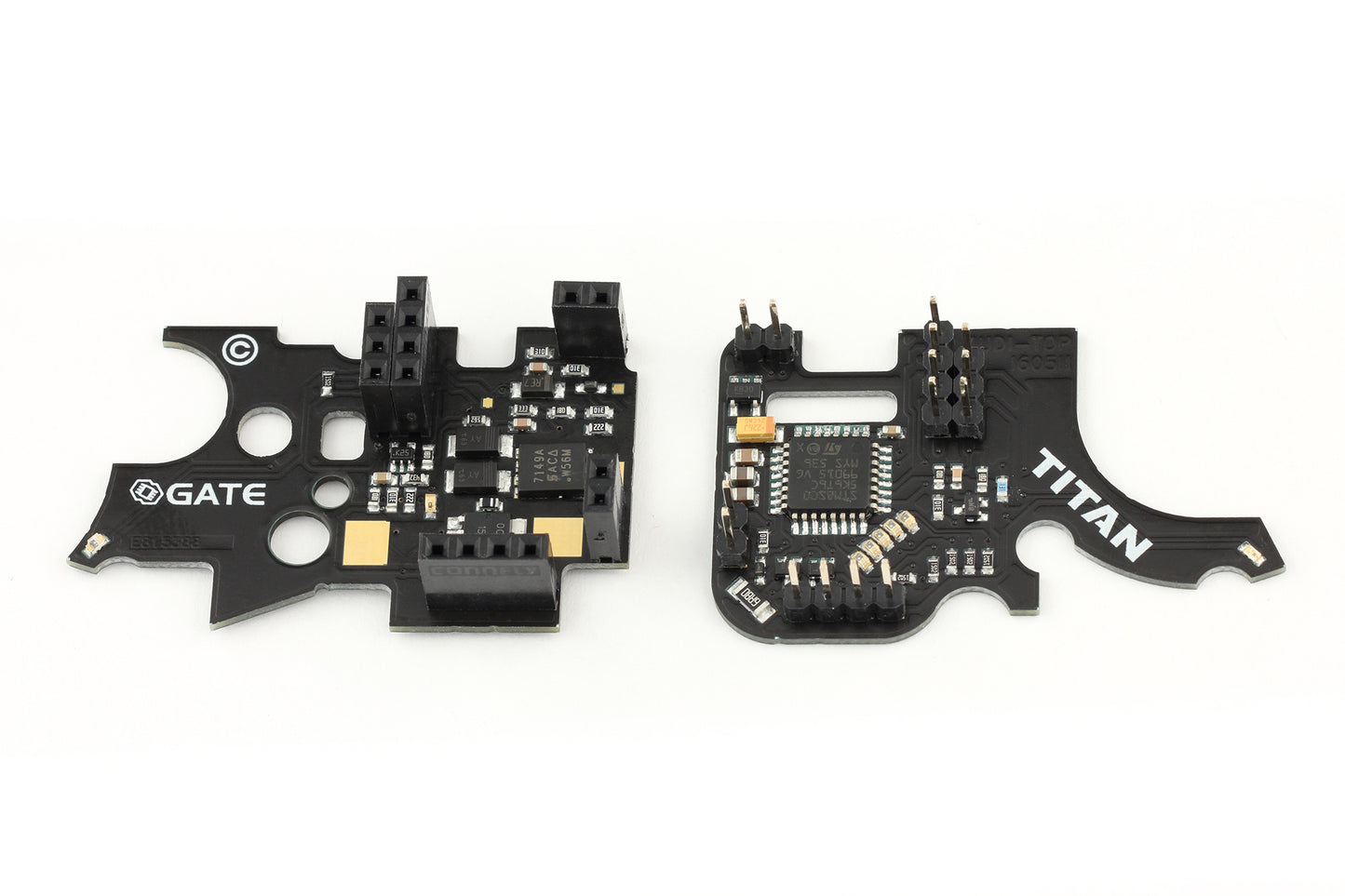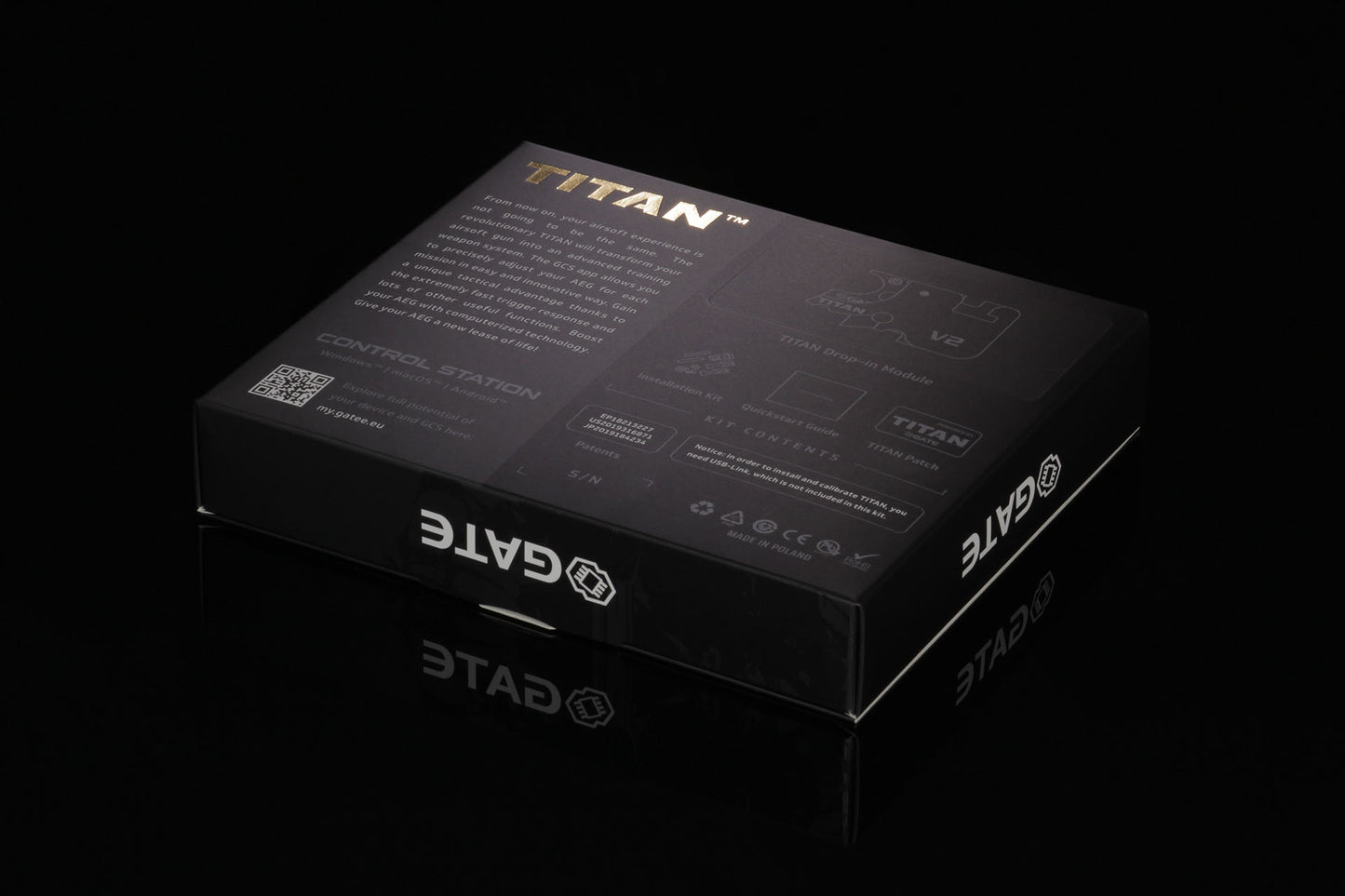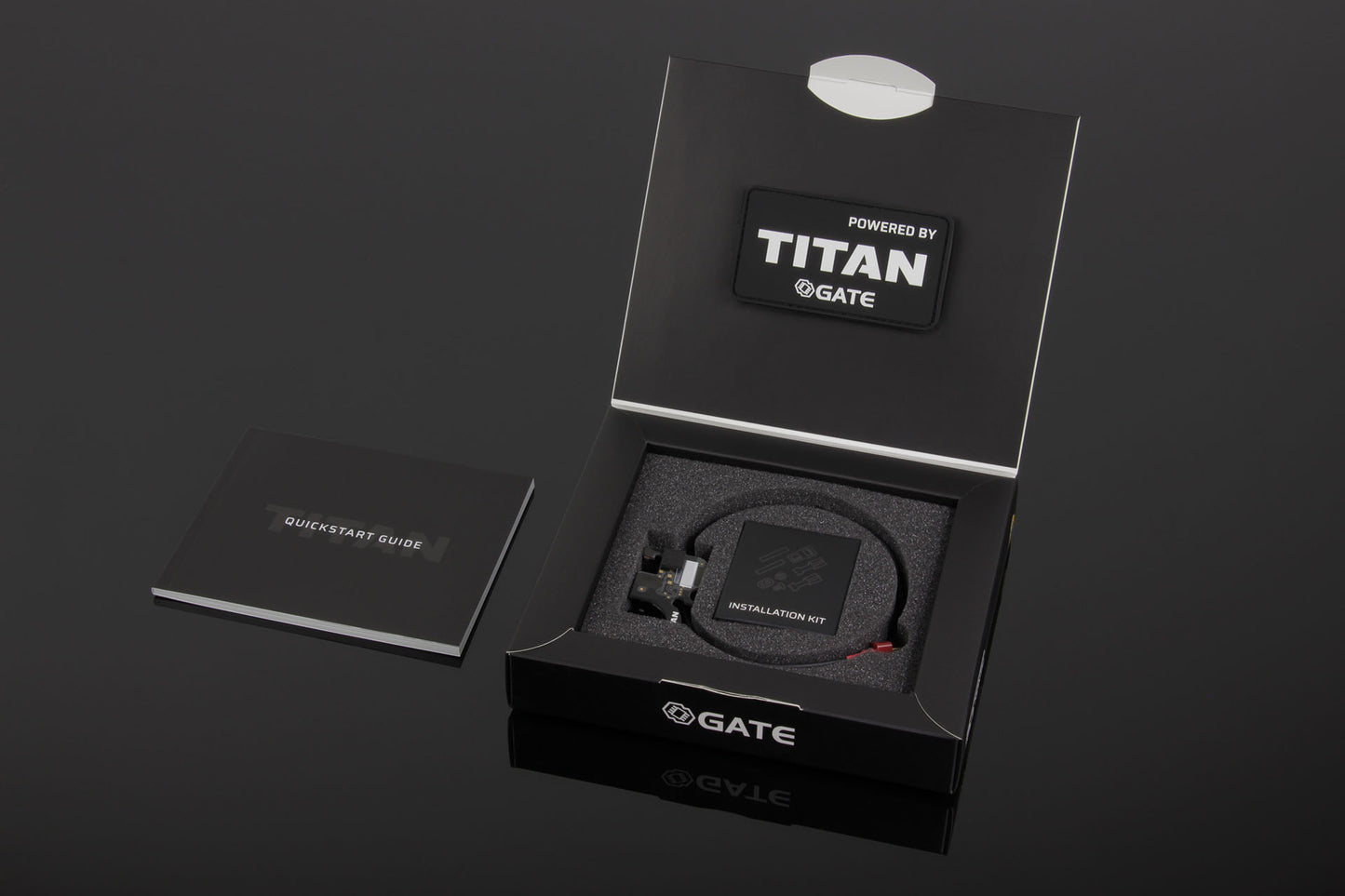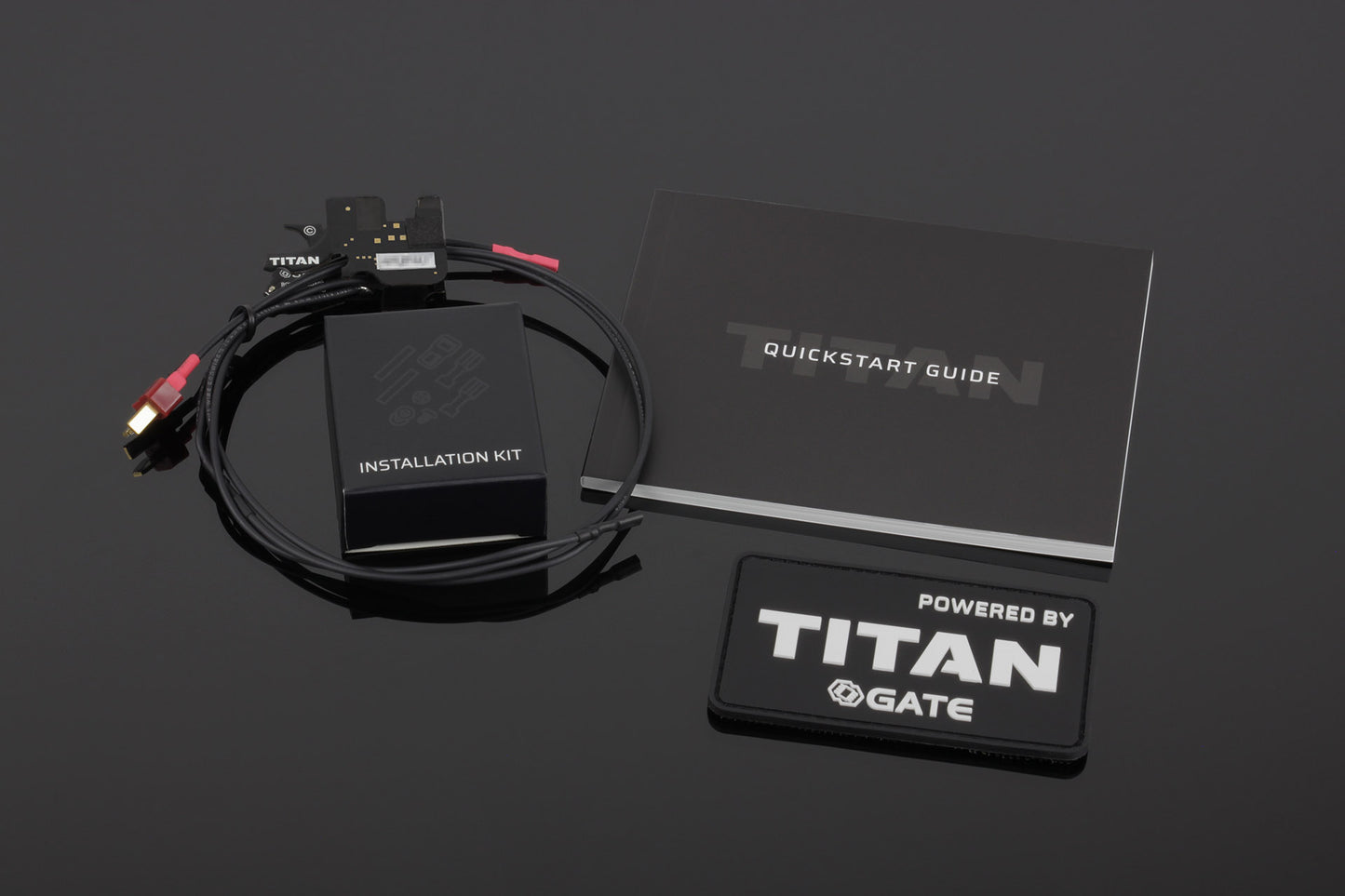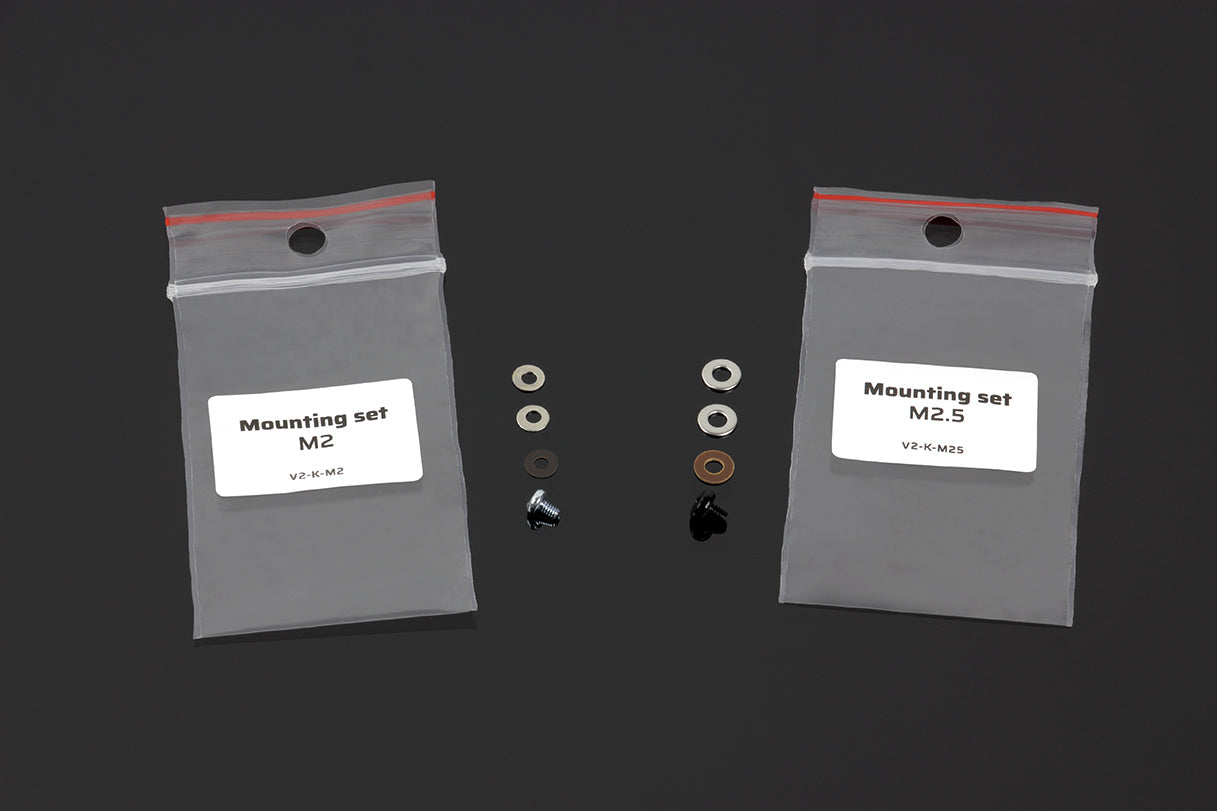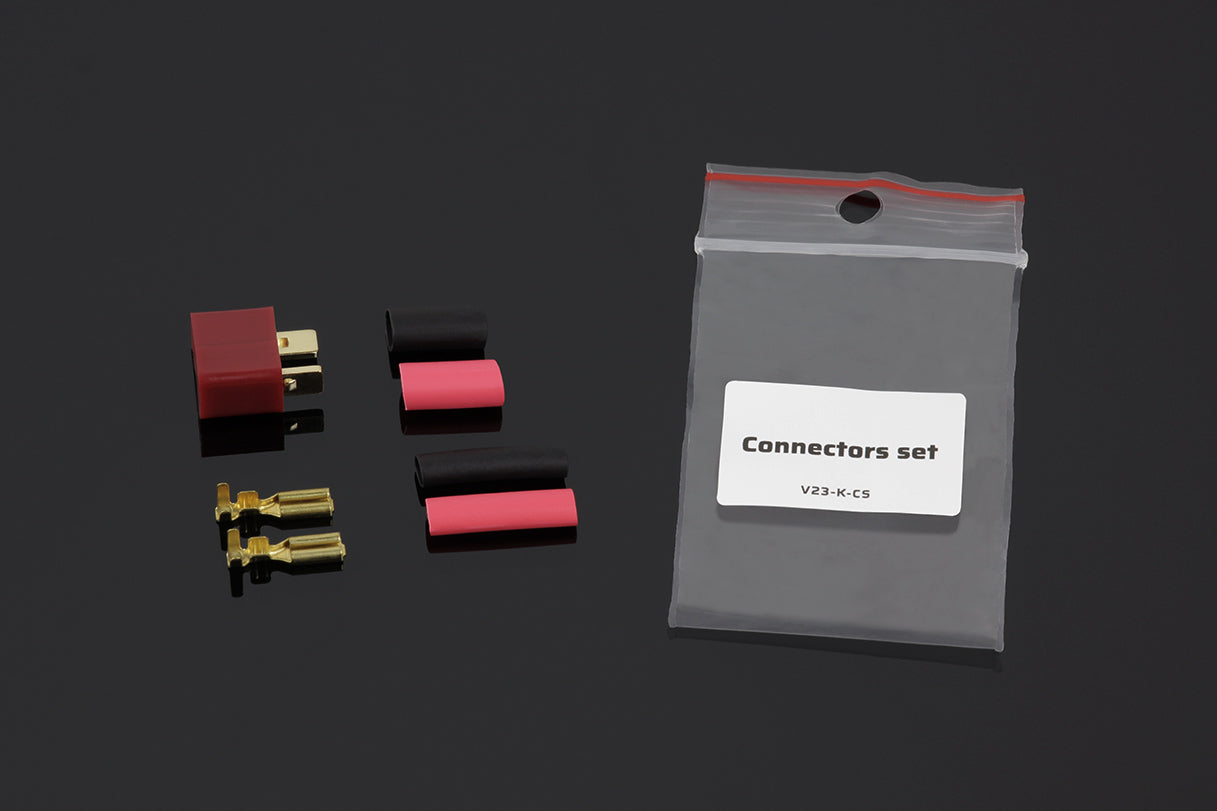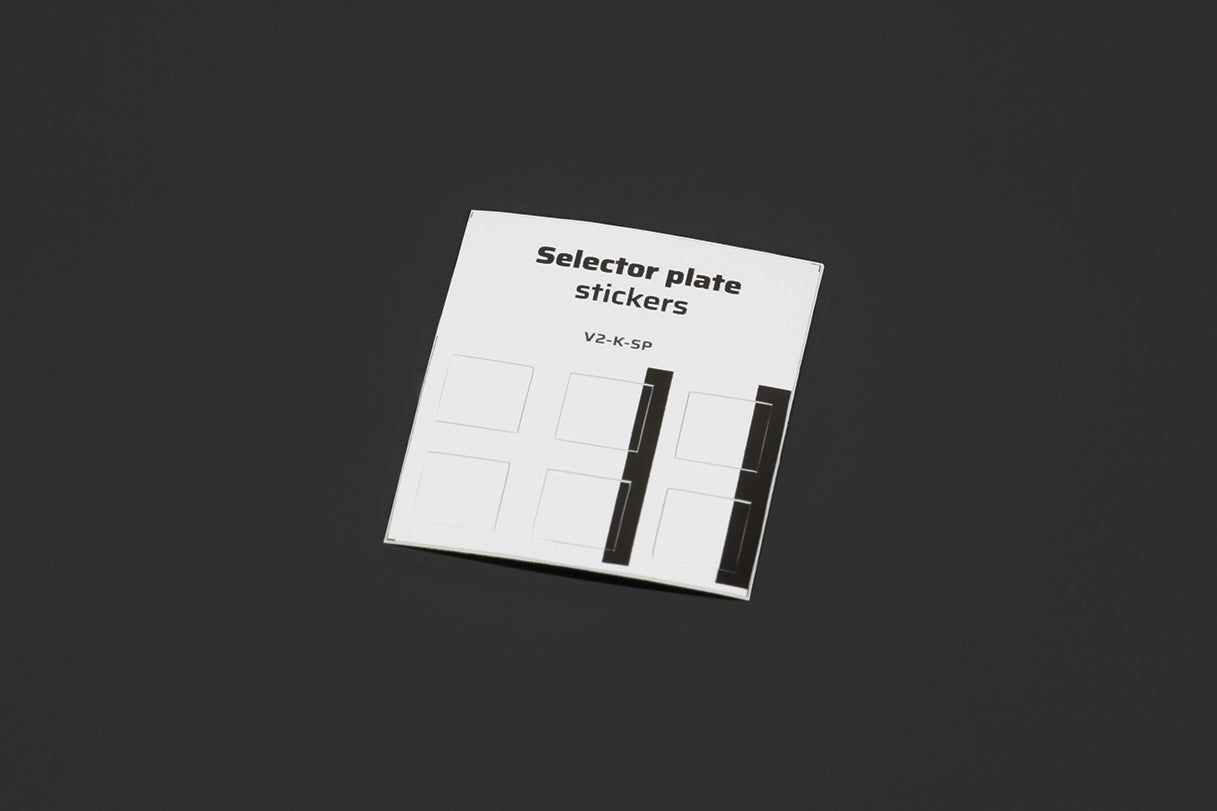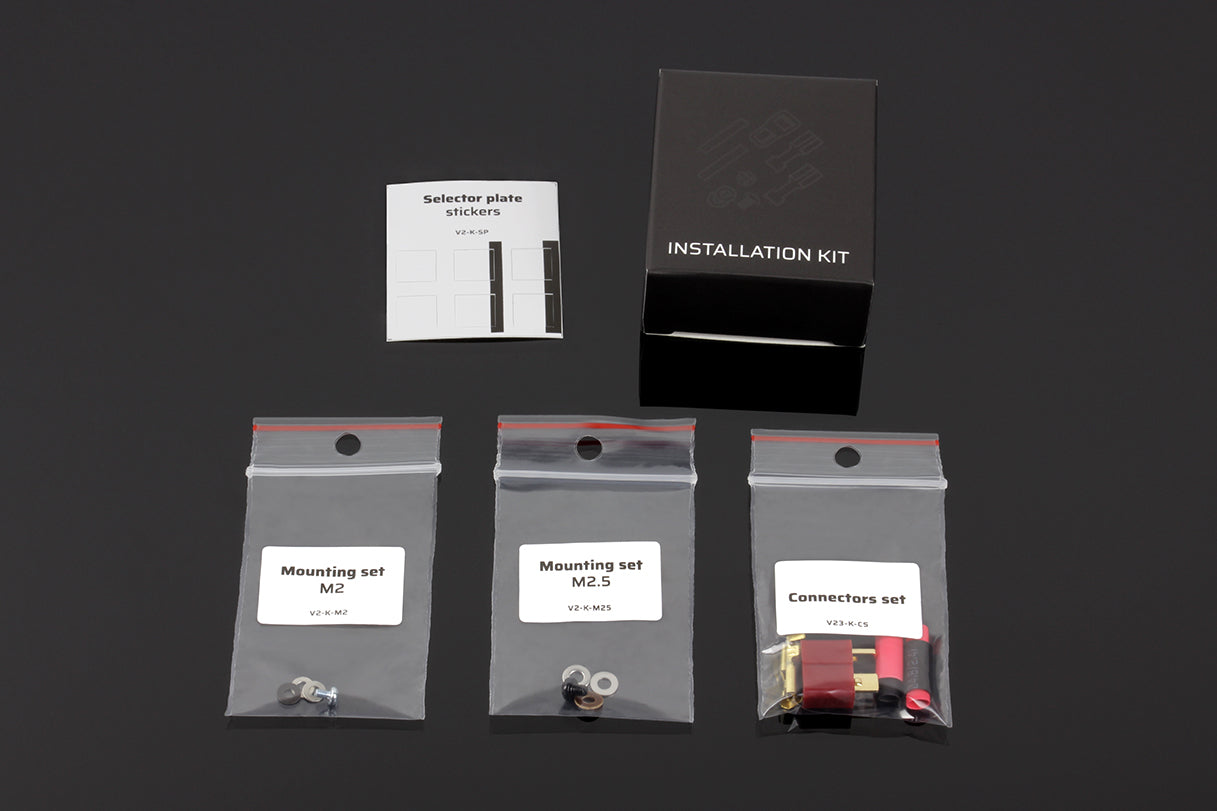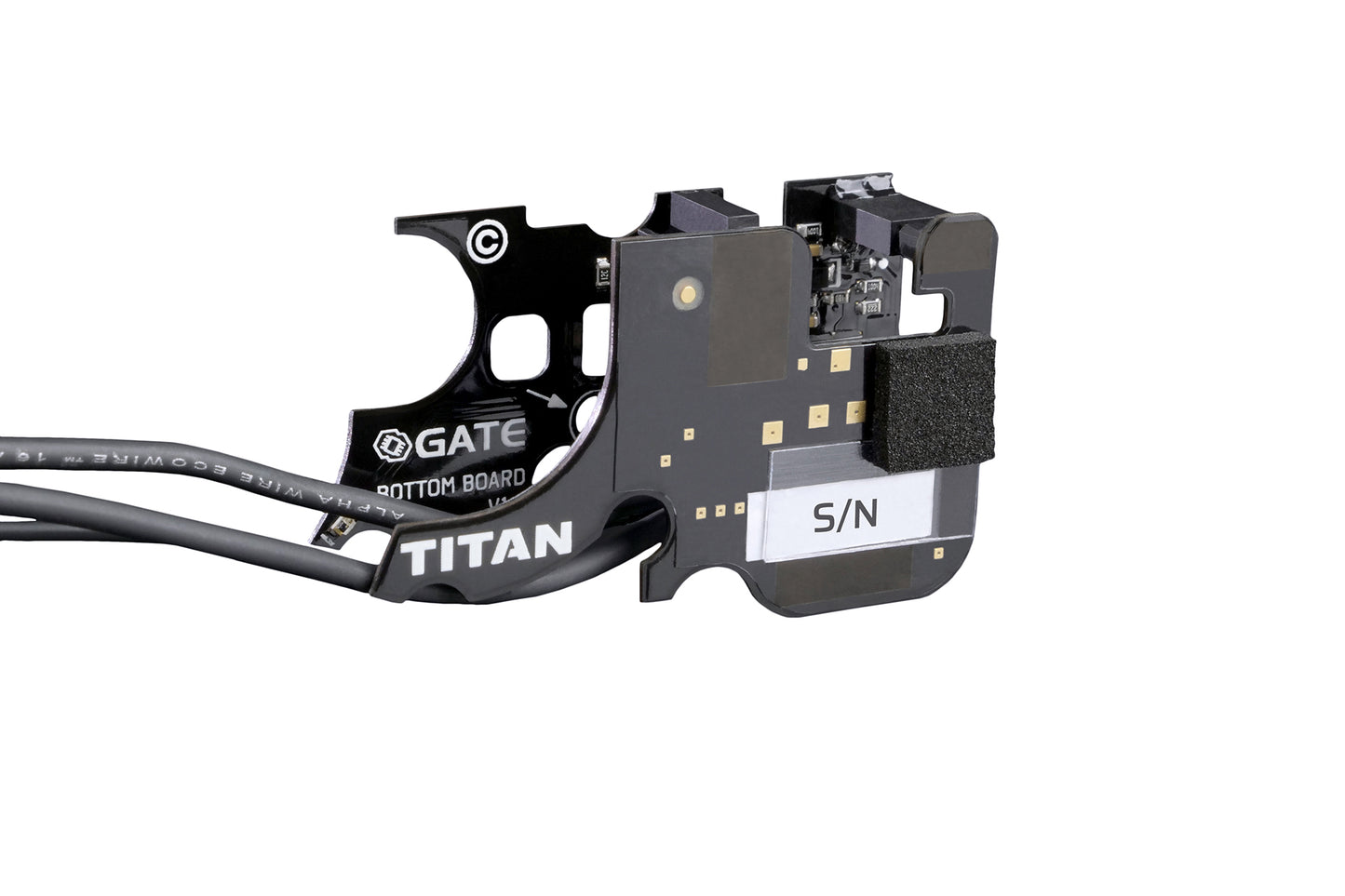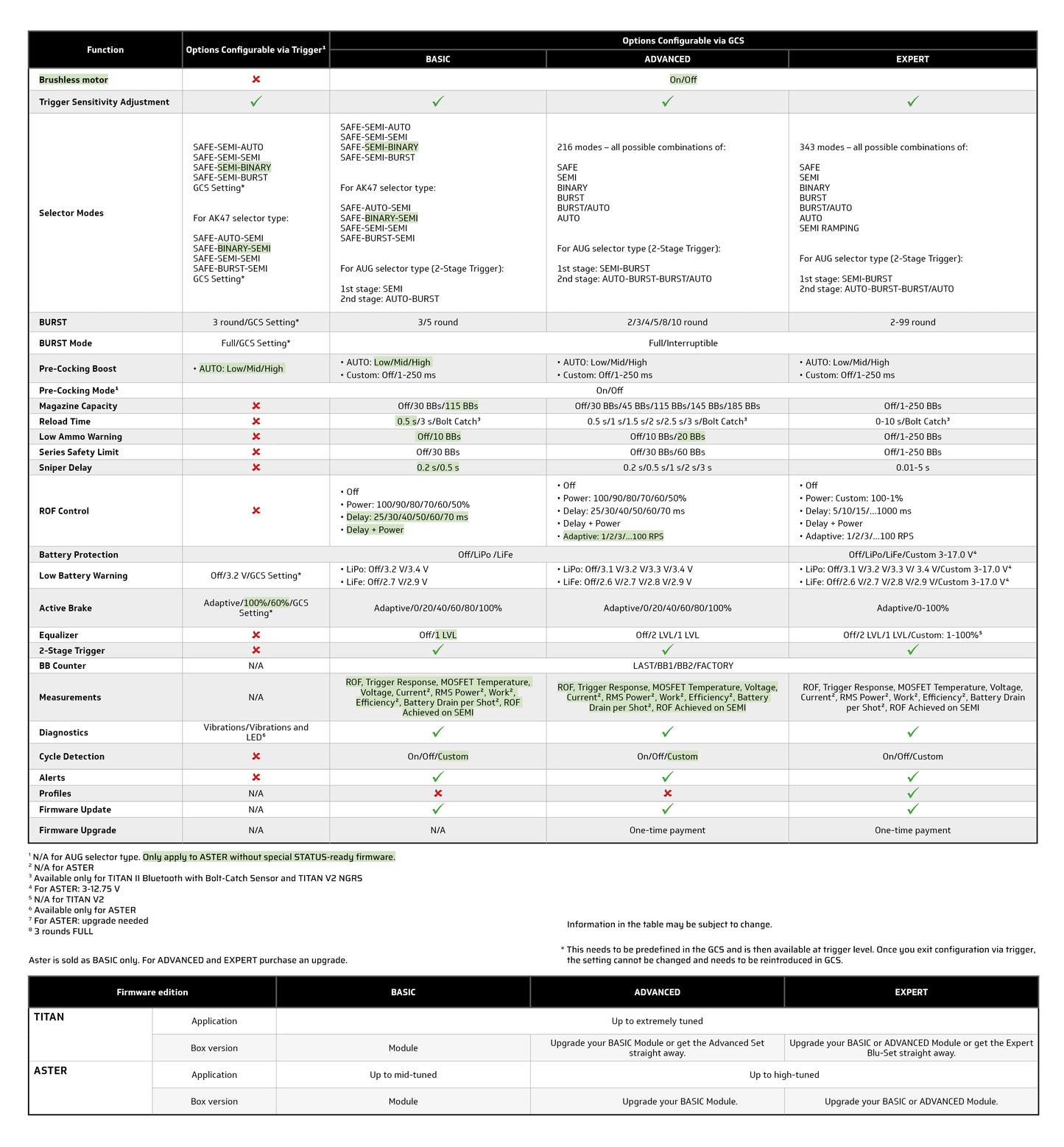 Transform your AEG with a V2 gearbox into a computerized training system and gain a unique tactical advantage thanks to extremely fast trigger response – just like in real life. One of the advantages of TITAN V2 are the 8 optical sensors. Unlike mechanical switches prone to faults, optical sensors are much more reliable. With an additional dongle—USB-Link or BluLink—you can adjust trigger sensitivity with military precision. If you need even more control, select one of the Nova Triggers – adjustable speed triggers designed especially for TITAN V2. Make no compromises and utilize years of experience of many thousands of users around the world, proving TITAN to be the best choice for advanced and professional players. Gain a unique tactical advantage matching your skills, thanks to a reliable MOSFET with tons of functions such as Hair Trigger, BURST Mode, Active Brake, Binary Trigger, and other essentials.


SPECIFICATIONS
Supply Voltage Range

3.75-17 V

Current Consumption

24 mA

Low Power Mode

280 µA

Dimensions (Length x Width x Height)

47.4 x 28.7 x 13.5 mm

Finished Product Weight

27.6 g

Operating Temperature Range

min. -15°C max. + 50°C

Relative Humidity

≤ 80%

Connect your TITAN with the GCS App and get total control of your AEG:

- Control your airsoft gun from your iOS, Android, macOS or Windows device

- Set trigger sensitivity exactly as you like and adjust other TITAN settings in a simple way 

- Use automatic Pre-Cocking to gain a trigger reaction just like in a real gun

- Try out ROF control, magazine simulation, and other functions

- Update and upgrade Firmware

- Check BB counters and telemetric data

- Perform diagnostics and send reports

- Virtual STATUS for smartwatches and smartphones

- Bolt Catch and magazine sensors for a realistic reload sequence
GCS APP

TITAN and GCS App give you total control of your AEG. ㅤ

ㅤ

The GCS offers you the option to:

• Control your airsoft gun from a smartphone with Android, iOS and PC with Windows or macOS


• Get real-time data from your smartwatch (with Wear OS or watchOS) to reinforce your tactical decisions and get the advantage necessary to win


• No more surprises with an empty magazine or a discharged battery


• Easily adjust the TITAN settings during the game


• Update and upgrade firmware


• View the BB counters, electrical measurements, and statistics


• Perform diagnostics and send reports


• Get the latest news from GATE Enterprise

ㅤ

Download GCS App
FEATURES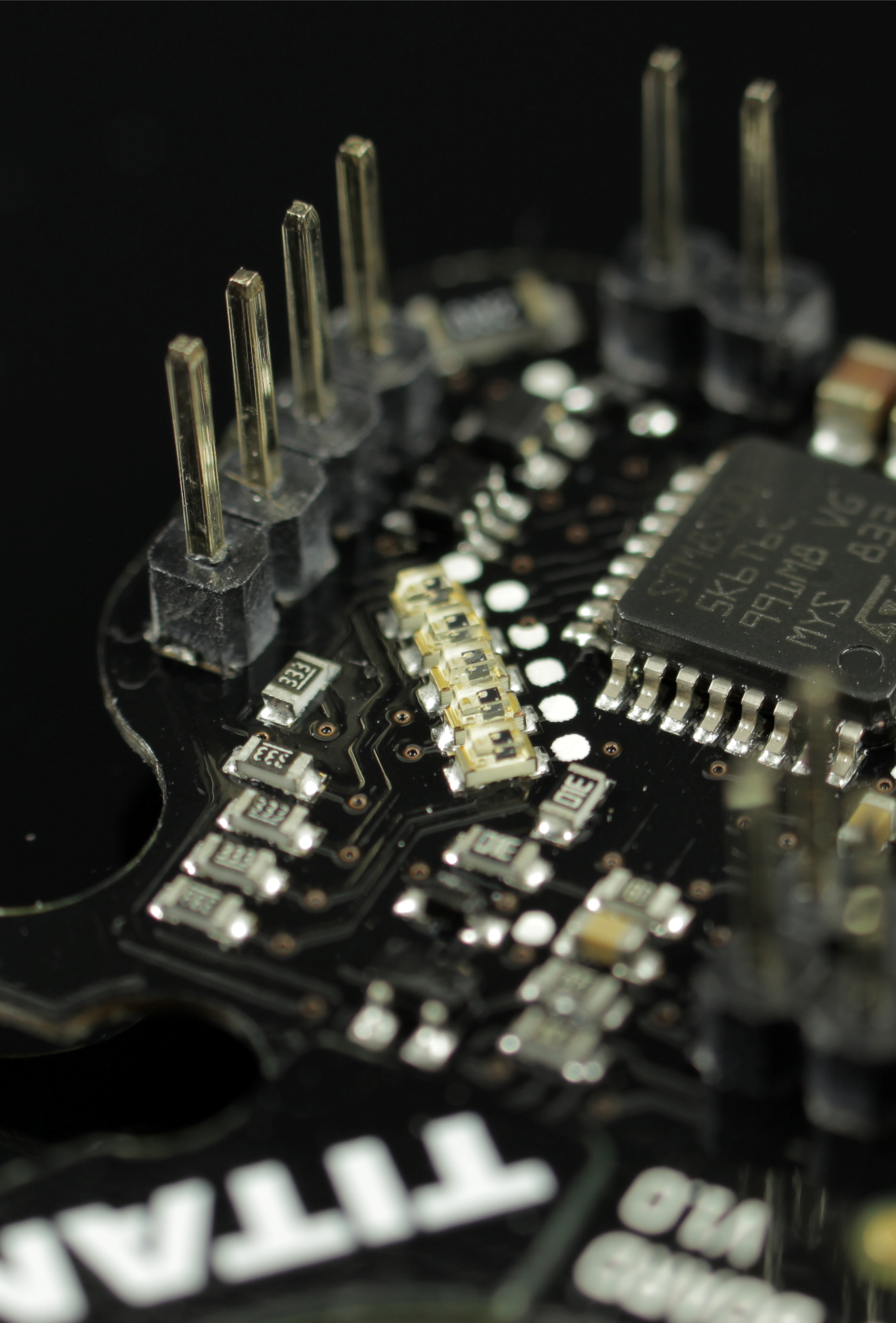 TRIGGER SENSITIVITY ADJUSTMENT

Five optical trigger sensors allow you to control trigger sensitivity. You don't have to disassemble your AEG. Just connect to the GATE Control Station App to adjust the trigger to your preferences and skill level. 
SELECTOR MODES

Two selector sensors allow you to take advantage of hundreds of selector mode variations, depending on firmware edition. The following modes are available for selection*:

SAFE – prevents your replica from firing, even if the safety lever is removed

SEMI – allows you to fire one shot per one trigger pull

BINARY – allows for firing one shot on the trigger pull and another shot upon release 

BURST – enables you to shoot a predetermined number of BBs, which is very useful in MilSims and when using low-caps; there are 2 BURST Modes available: 

Full – a burst is shot in full, even if the trigger is released before the preset number of BBs has been shot
Interruptible – the burst can be interrupted by releasing the trigger earlier - when the trigger is released, the shooting stops even if not all the BBs from the burst have been shot

BURST/AUTO – available in Full BURST Mode only; allows for extending a burst by any number of shots – if you hold the trigger after the burst is shot, it switches to AUTO Mode 

AUTO – shots are fired as long as the trigger is pulled

SEMI RAMPING – if you pull the trigger very fast, it switches to AUTO Mode

*You can check selector configuration possibilities provided by particular Firmware Editions here

Please note: In the case of Regional Lock, only SEMI Mode is available. Check law restrictions in your country.
2-STAGE TRIGGER

Enables you to set two different trigger sensitivities. Pulling the trigger slightly produces SEMI or BURST fire. Pulling it further produces BURST or AUTO fire. Select your sensitivity preferences for each stage.
PRE-COCKING

Victory in the game is often a matter of fractions of seconds. Thanks to pre-cocking, you gain trigger reaction similar to a real replica. This allows for initial spring compression, which speeds up trigger response significantly.

There are two Pre-Cocking Modes:

AUTO Mode – the spring is automatically compressed after each shot—you choose the level of pre-cocking from the list (percentages or levels)
MANUAL Mode – set the pre-cocking values yourself—instead of percentages there are time settings, you have to choose the time for yourself by trial and error

*Now Pre-Cocking is fully operational in SEMI, BURST, and AUTO Modes

Please note: using Pre-Cocking increases wear and tear on the gearbox.
MAGAZINE

This feature allows for simulating magazines of lower capacity than actually used. Depending on Firmware Edition, allows you to set a simulation of magazine capacity from 1 BB up to 250 BBs. Even if you have a high-capacity magazine, this function lets you truly increase the realism of your game by imitating that your magazine is real-cap. Then, after a predetermined number of BBs is shot, you will have to wait for a previously defined amount of time before the next shot can be fired as if you were really replacing an empty magazine with a full one. In the case of ADVANCED and EXPERT Firmware, you can also set Low Ammo Warning.
SERIES SAFETY LIMIT

Enables to set a predefined number of BBs fired in a single series. It can be used as protection against trigger jams. In case of emergency, you can stop the series by switching the selector position.

*Works only if ROF is decreased using the power settings of ROF control.
SNIPER DELAY

It lets you set the delay between shots or series to simulate the delay from reload or recoil. You can set the delay to 0.2 s, 0.5 s, 1 s, 2 s or 3 s for ADVANCED firmware and 0.01-5 s for EXPERT firmware.
SMART TRIGGER

We know how vital fast trigger response during combat is. That's why we've developed the Smart Trigger function, which enables you to achieve faster trigger response. It works with the ROF Control System. During the first shot, the microprocessor sets the ROF control to 100%. After the first shot, it switches to a previously programmed value (e.g. 50%). As a consequence, the first shot is fired at a full ROF and subsequent shots at a reduced ROF. The best results can be achieved when using a battery with above standard voltage. For example, if you're using a 7.4 V battery, you can replace it with a 11.1 V one. This way, you will achieve faster trigger response with the same rate of fire than with a standard battery. 

*Works only if ROF is decreased using the power settings of ROF control.
BATTERY PROTECTION & WARNINGS

Protection against battery over-discharge. Modern LiPo and LiFe batteries are very sensitive to over-discharge. If you do not want to damage the battery and you care about its service life, this protection is indispensable. The microprocessor is constantly monitoring battery voltage. When voltage drops to a critical level, it will not allow firing. The number of battery cells can be detected automatically.

LOW BATTERY WARNING
When battery voltage drops to a predefined level, the motor will vibrate at regular intervals. The user is warned 5 times before the battery is discharged. Each warning is communicated by 3 vibrations: HIGH → MID → HIGH. 
ACTIVE BRAKE

Thanks to the gear sensor, TITAN precisely detects where the cycle finishes. So, even the shortest trigger action produces at least one full cycle. The optical sector gear sensor counts each tooth of the gear, making it possible to use a broad range of gears: DSG, SSG, 19-tooth, and standard ones. In EXPERT Firmware, you can select the cycle manually.

Thanks to the cycle detection function you get:

AUTOMATIC BURST

You don't need to set the burst time—you can set the burst between 2 and 10 shots

AUTOMATIC Pre-Cocking

Pre-Cocking is fully operational in SEMI, BURST, and AUTO modes and there's no need to set the Pre-Cocking boost manually; you can simply set Pre-Cocking as high, mid or low

FULL CYCLE

When Pre-Cocking is off, TITAN ensures that the gearbox completes a full cycle and you gain more reliability
NOTIFICATION SETTINGS

You can enable or disable information and warning vibrations, and make your gun stealthy.
DIAGNOSTICS

This feature allows you to troubleshoot your AEG in case of any issue. Errors are communicated once they occur, and their description can be found in the GCS App.
FIRMWARE UPDATE

GCS allows for making firmware updates via the internet, which enables you to quickly apply changes, improvements, and bugfixes.
SMART FUSE

The Smart Fuse protects your AEG's battery, motor, and controller, even in case of reverse battery connection. A combination of current, voltage, and temperature measurements makes your AEG installation highly reliable. It protects the MOSFET against overheating, overloading, and short-circuiting. If your airsoft gun gets jammed, this function protects the motor and battery against damage.
MOSFET

Do you want to achieve a higher ROF and faster trigger response? Are you planning a power upgrade of your gun? In this case, you need a MOSFET.

It targets the energy from the battery directly to the motor, bypassing the mechanical trigger contacts. As a result, you gain a higher ROF of the gun and faster trigger response.
BUILT-IN SELF-TEST

This allows you to quickly check whether the drop-in module is working properly. It helps to locate where the problem lies when anything goes wrong.
COATING

Thanks to its special conformal coating, our product is resistant to atmospheric conditions (Military Specification MIL-V-173C).
14.8 V Li-Po READY

The drop-in module can be used with batteries up to and including 14.8 V LI-PO. The minimum operating voltage is 3 V and the maximum is 17 V.
What makes TITAN V2 so special?
Top-notch optical sensors:
Automatic Pre-Cocking
Replicates trigger response just like in real life
Configuration of all settings via the Bluetooth® dongle Blu-Link and GCS App for Android and iOS devices
Configuration of all settings via USB-Link and the GCS App for Android, Windows, and macOS devices
Sector gear sensor supporting most popular types of gears: DSG, SSG, 19-Tooth, and standard ones
Innovative optical sensors instead of mechanical switches prone to faults
Binary Trigger as one of the basic functions
Premium level functionality

Compatibility with GATE Ecosystem



Compatibility with GATE Ecosystem including GATE STATUS and future hop-up chamber with tracer
User-friendly GCS app for iOS, Android, macOS, Windows, watchOS, Wear OS
TITAN II can be connected with smartwatch
Ultra-precise telemetry measurements thanks to the new current sensor
GATE HELP CENTER
Browse Manuals, FAQs, and get instant help with technical issues, warranty claims, and order enquiries.
Discover our ecosystem
TITAN

Transform your AEG into a computerized training system and gain a unique tactical advantage thanks to extremely fast trigger response—just like in real life.

ASTER

The younger brother of the well-known TITAN. Designed to achieve maximum reliability at an attractive price and destined for most AEGs. ASTER is destined for most builds.

STATUS

Get data in real-time directly from the STATUS screen to reinforce your tactical decisions. No more surprises with an empty magazine or a discharged battery.

GCS APP

GATE Control Station is a free universal app for configuring, controlling, and connecting the GATE Ecosystem elements such as the TITAN, ASTER and STATUS.

VIRTUAL STATUS SMARTPHONE

Virtual STATUS functions in your smartphone. No more surprises with an empty magazine or battery.

VIRTUAL STATUS SMARTWATCH

GCS App provides essential STATUS functionalities such as the BB counter, magazine counter, and the remaining shots on the battery.

BLU-LINK

Blu-Link allows for wireless management of your GATE ETU via the GCS App. You can use an iPhone, Android smartphone or a computer to control your replica with Bluetooth® 5.0.

USB-LINK

The USB-Link dongle is used for connecting GATE ETUs with PC, Mac, and Android devices. Working in tandem with the GCS App gives you full access to functions and settings.