Regular price
92,97 EUR
Sale price
74,38 EUR
Unit price
per
Sale
Sold out
Lowest price last 30 days: (August 28, 2023)
*Free express shipping via courier on all orders over 250 EUR
Shipping & Returns
About

ASTER V3 SE raises the price-performance ratio including new functions programmable via trigger. Now, out-of-the-box, you can set sensitivity from 'hair' to full movement. Improved programming via trigger gives you new settings like automatical pre-cocking (LOW, MID, HIGH), trigger sensitivity adjustment, active brake settings with top-class adaptive mode and new SAFE - SEMI - BINARY selector mode. Calibration, DTC codes - all available just via trigger and selector movement.

ASTER's smart fuse protects your AEG's battery, motor and the controller, even in case of reverse battery connection. This feature, along with the optical sensors, makes ASTER SE one of the most durable ETU on the market. 

ASTER is not just regular ETU/EFCS mosfet. It is the complex system that turns your AEG into future-proof advanced training system. You choose how to configure ASTER – simply via trigger or through USB-Link / Blu-Link and our advanced GCS App. You can ask your technician or borrow from friend very popular USB-Link or Blu-Link and use GCS app to update ASTERs firmware, carry out diagnostics or change settings in a very convenient way. If you like it you can get your own Blu-Link and use Smartwatch app, giving you real-time data to reinforce your tactical decisions.
Specification

Support for

 

high-tuned AEGs
Conformal coating (Military Specification MIL-V-173C) – resistance to atmospheric conditions

 

 

ASTER V2

ASTER V3

Supply Voltage Range

3.75-12.9 V (1.2V during the shot)

Current Consumption

23 mA

26 mA

Low Power Mode

288 µA

285 µA

Dimensions (Length x Width x Height)

43.8 mm x 28.7 mm x 7.2 mm

73.5 mm x 24 mm x 12.5 mm

Finished Product Weight

22.25 g

26 g

Operating Temperature Range

min. -15°C max. + 50°C

Relative Humidity

≤ 80%
What makes ASTER V3 SE so special?

What makes ASTER V3 so special?

Protection against battery reverse polarity
Proximity trigger sensor with up to 315 possible sensitivity settings
Configuration of main settings via trigger
Configuration of all settings via Bluetooth® dongle Blu-Link and GCS App for Android and iOS devices
Configuration of all settings via USB-Link and GCS App for Android, Windows and macOS devices
Built-in RGB LED for easier programming
No modification of gearbox shell needed
It has innovative optical sensors instead of mechanical switches, which can be prone to faults
Optical gear cam sensor supporting all types of gears such as: Infinite Torque-up, DSG, SSG, 19-tooth and standard
Binary trigger function as a basic function
Premium level functionality at an affordable price
What distinguishes ASTER V3 SE from the competition?

ASTER gives you great flexibility and is

 

future-proof. Today you can program the most important functions with the trigger, and tomorrow you can borrow a USB-Link or Blu-Link from a friend to configure

 

advanced functions, perform a firmware update, run

 

diagnostics

 

or use the GCS app on a smartwatch
Hair-trigger
Top-notch

 

automatic pre-cocking
ASTER is resistant to

 

reverse polarity
You can

 

update its firmware via the Internet
ASTER is a part of GATE Advanced Weapon Ecosystem
Lowest in the market current consumption.

 

Deep sleep mode with only

 

0.29 mA

 

current c

onsumption

 prevents battery discharge

Built-in 

voltage boost converter

 

allows for trouble-free

 

operation with weaker batteries and increases the

 

switching efficiency
3.75V ready

 

- it operates at very low voltage (even

 

1.2V

 

during the shot), which is important in high-tuned AEGs, where the voltage under load drops significantly
Sensor that supports

 

Infinite Torque-up, DSG, SSG, 19-tooth and standard gears
The possibility of using a mechanical trigger lock
ASTER Manual - GATE Help Center
Share
View full details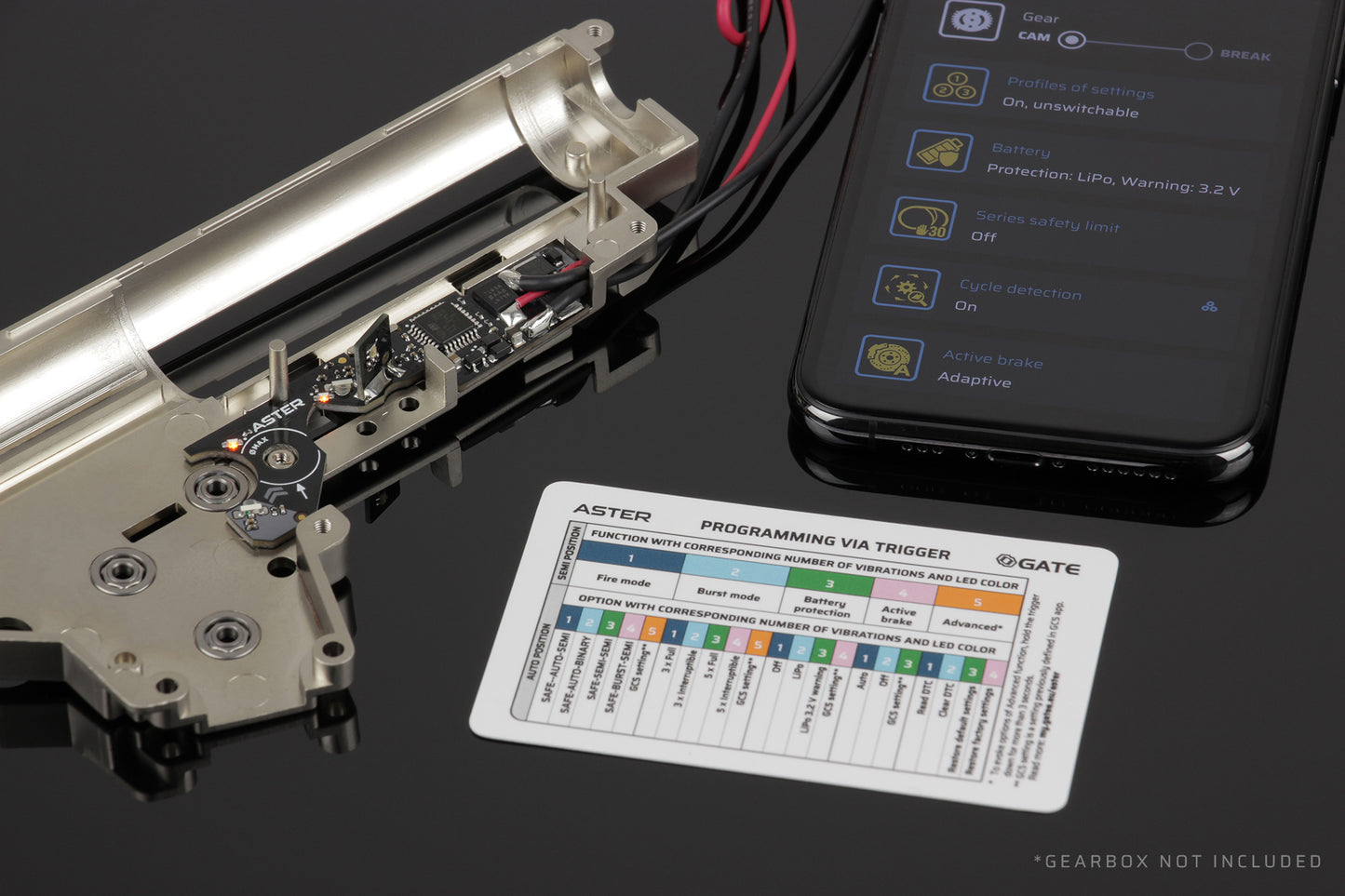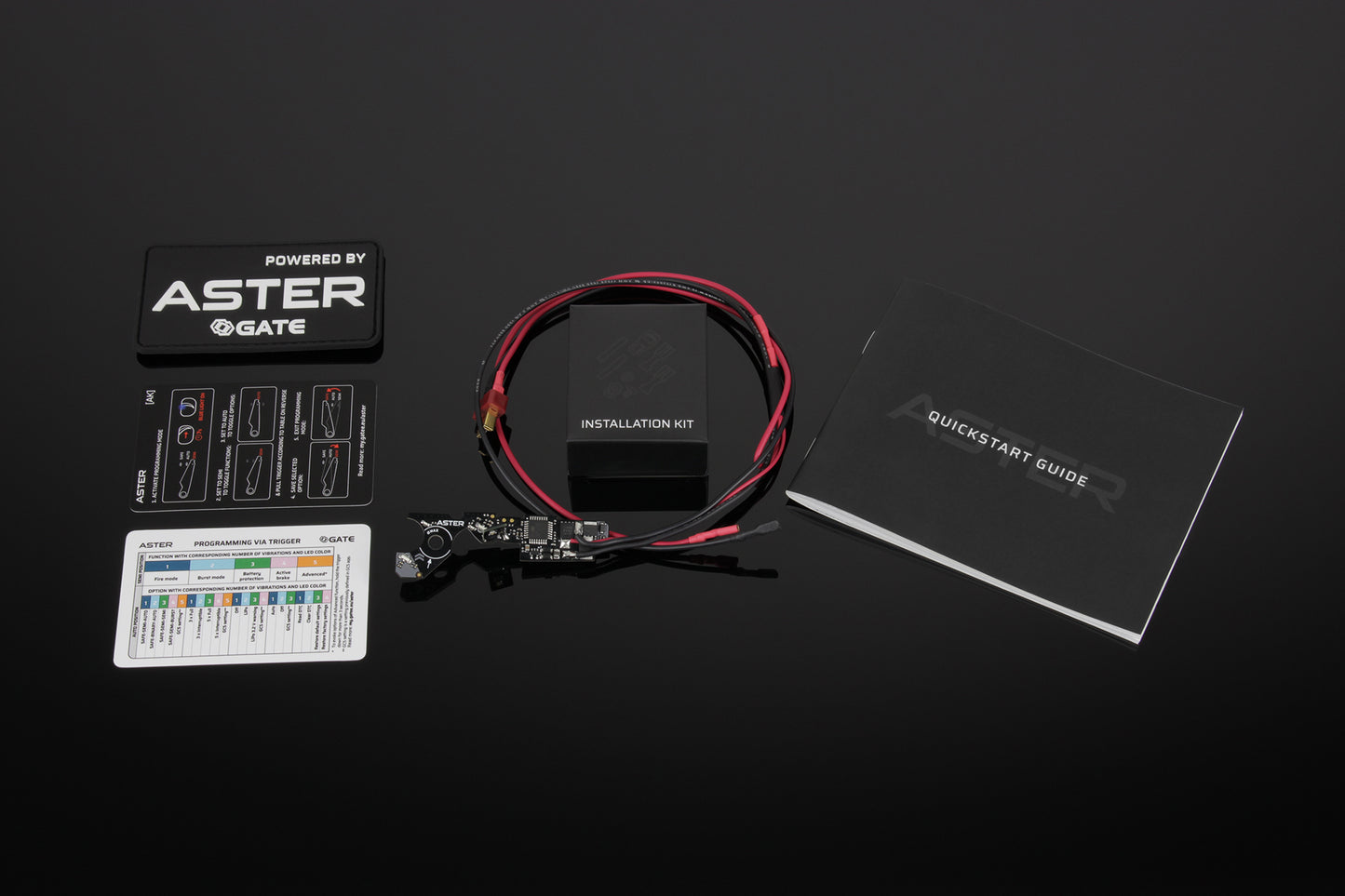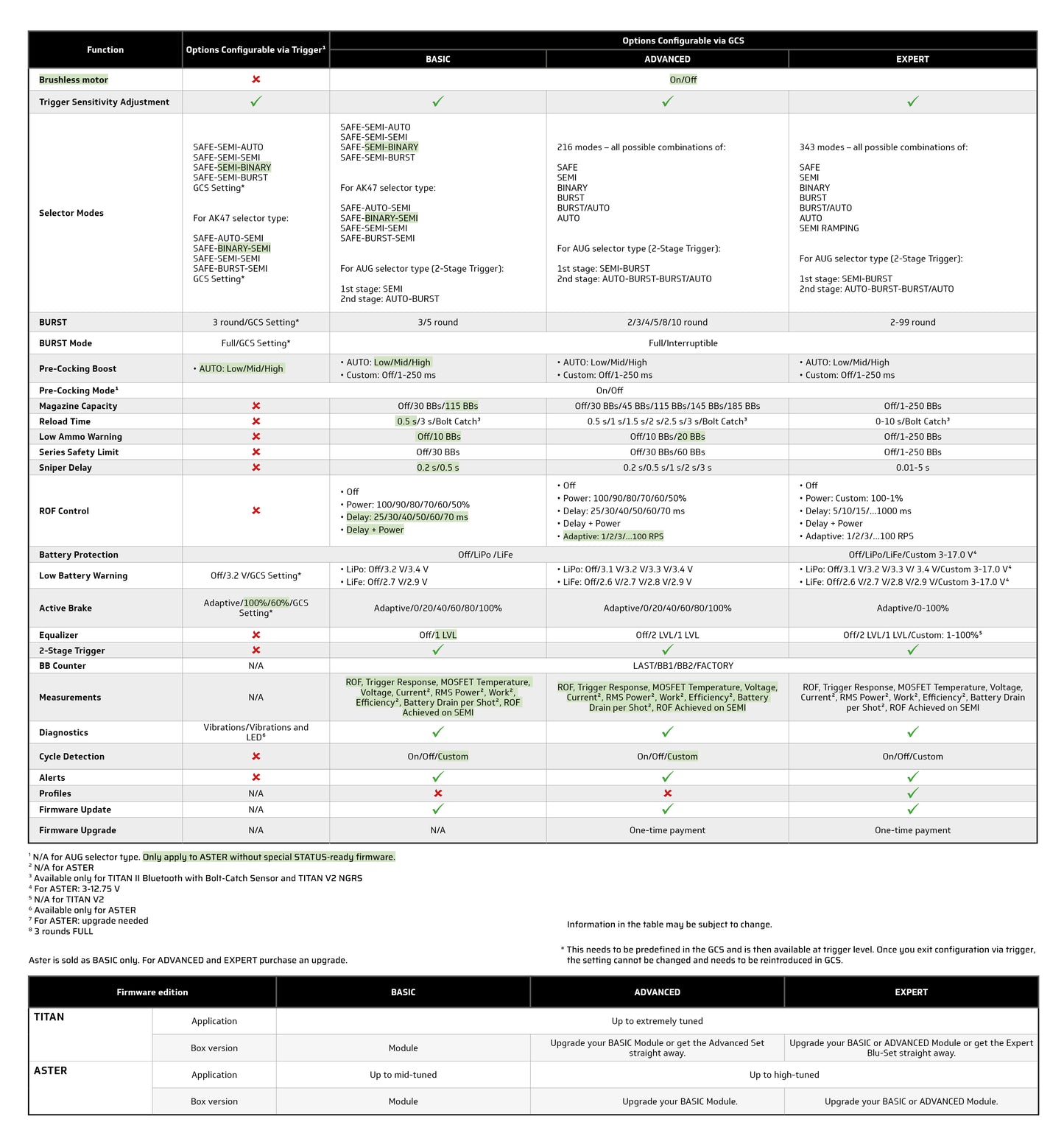 Shipping & Returns
| | | |
| --- | --- | --- |
| Destination | Express shipping via Fedex | Polish National Postal Service |
|  Europe | 2-7 business days | 1-2 weeks |
| Asia | 2-5 business days | not available |
| US/Canada | 2-3 business days | not available |
| Australia | 3-4 business days | not available |
*Please note that the above delivery times may be extended due to custom duty procedure.
1. The Goods purchased in the Online Store are delivered worldwide, subject to territorial restrictions under applicable laws.
2. The Goods are delivered via specialised courier companies or Poczta Polska (the Polish national postal operator). In some cases, the Goods may be personally collected from the Seller's registered office, and in the case of the Goods that represent digital content – they may be downloaded on an appropriate device.
3. The Goods are shipped within 1 to 3 (one to three) business days from payment booking. In some cases, the Goods can be shipped at a later date. This applies also to the Goods sold in advance (pre-sale). In such a case, the Seller shall inform the Client about a shipment date. An approximate shipment delivery date depends on a delivery method selected and a destination country, and is specified at order placement. When selecting a transfer payment option, the delivery time indicated on the Website shall be increased by time needed to credit the Client's entire payment to the Seller's bank account, usually 1-2 (one to two) business days. Further, in the case of countries outside the European Union, due to distance and potential customs controls the delivery time may be prolonged up to 5 weeks.
4. Detailed delivery method information is available in the Online Store in a Cart section of the given Product.
5. The Goods are shipped to an address specified in an order form or provided by phone or by e-mail. The Seller shall promptly inform the Client about the fact that an order form has been filled in incorrectly if this prevents or delays the conclusion of the Sales Agreement or the delivery of the Goods.
6. Prior to the acceptance of shipment from a postal or a courier service, packaging should be checked for any potential damage inflicted in transport. In particular, the condition of tapes or seals placed on the shipment shall be verified. If shipment package shows any signs of damage or if the seals (tapes) are removed, the shipment shall not be accepted, a damage report shall be prepared in the presence of a courier and the Seller shall be contacted as soon as possible in order to clarify the issue. If discrepancies in terms of shipment quantity or quality are not detected at the acceptance, this might adversely affect the resolution of the Client's claims filed due to shipment damage or theft in transport.
7. In the case of the Goods that represent the firmware upgrade of devices distributed by the Seller (digital content), the Client, upon the placement of the Order, conclusion of the Sales Agreement and payment, shall connect to a GATE CONTROL STATION desktop application via a USB-Link or Blu-Link device and install the upgrade purchased.
You may also like
Regular price

57,73 EUR

Sale price

52,48 EUR

Unit price

per

Regular price

160,65 EUR

Sale price

137,92 EUR

Unit price

per

Regular price

32,80 EUR

Sale price

29,51 EUR

Unit price

per
GATE Control Station App

ASTER and GATE Control Station give you total control of your AEG.




The GCS offers you the option to:

- Control your airsoft gun from a smartphone with Android, iOS and PC with Windows or macOS
- Get real-time data from the smartwatch (with Wear OS or watchOS)to reinforce your tactical decisions and get the advantage necessary to win. No more surprises with an empty magazine or a discharged battery. 
- Simply adjust the ASTER settings
- Update and upgrade firmware
- See the BB counters and Measurements statistics
- Perform diagnostics and send reports

 

Optical sensors




ASTER has optical sensors for detecting gear cam, trigger and selector position.

Trigger sensitivity adjustment

The trigger sensor offers you even 470 possible sensitivity settings. You do not have to disassemble your AEG. Just use GCS App to adjust the trigger to your preferences and level of skills. You can even activate 2-stage trigger and set two different trigger sensitivities. Pulling the trigger slightly produces Semi or Burst fire and pulling the trigger further produces Burst, Burst / Auto or Auto fire. The 1.5 gen. proximity trigger sensor offers the following sensitivity ranges, depending on trigger construction:

In total: 160–470 levelsIn the first millimeter of trigger movement: 3–60 levels Selector switching point adjustment

The selector sensor gives you an option for fine calibration of selector switching point.

Please note: Selector switching point cannot be set while programming via trigger.