Regular price
57,73 EUR
Sale price
52,48 EUR
Unit price
per
Sale
Sold out
Lowest prior price: (August 28, 2023)
Color may vary slightly depending on batch.
*Free express shipping via courier on all orders over 250 EUR
Shipping & Returns
About

EON Hop-Up Chamber - Highly precise CNC machined hop-up chamber stuns with FPS precision & consistency, ensures a perfect sealing and BBs feeding. Revolutionary TDC system of hop-up adjustment always gives you an ideal and horizontal placement of hop-up nub, what makes the BBs' flight trajectory perfectly straight.

Tight tolerances of crucial dimensions let for constant FPS level and stable working of the hop-up system. Redesigned c-clip, CNC made from POM material, gives an anti-rotation of the barrel which enables simple and error-free assembling.
Features:

Precise and stable hop-up adjustment thanks to the first-class TDC (Top Down Centered) system

Always horizontal and straight BBs' flight trajectory

No tightening effect on hop-up bucking collar

No effect of rolling up the bucking collar

Perfect seal with hop-up buckings (no Teflon fix needed)

Full range of regulation of hop-up force, no matter what kind of hop-up nub you use

Strong and tight CNC c-clip which ensures stabilization of the barrel

Perfect axial alignment of the barrel in the chamber

Extremely precise hop-up force adjustment thanks to the ergonomic rotary dial

Perfectly fits GATE PULSAR S HPA Engine and GATE EON Complete V2 Gearbox

 
Set includes:

1 x CNC Aluminum Hop-Up Chamber

1 x CNC POM Hop-Up Arm

1 x CNC POM 4.5 mm universal double-sided tensioner clamp (for barrels with standard and enlarged windows)

1 x CNC POM 6 mm R-Hop tensioner

1 x Mounting screw

1 x CNC POM anti-rotation C-Clip

1 x CNC POM anti-rotation C-Clip - offset version for bucking with longer flange

1 x CNC POM barrel spacer

1 x CNC POM nozzle sleeve

10 x O-ring spacer replacing the classic spring (additional stabilization of the chamber)
EON HOP-UP CHAMBER MANUALS - HELP CENTER
Share
View full details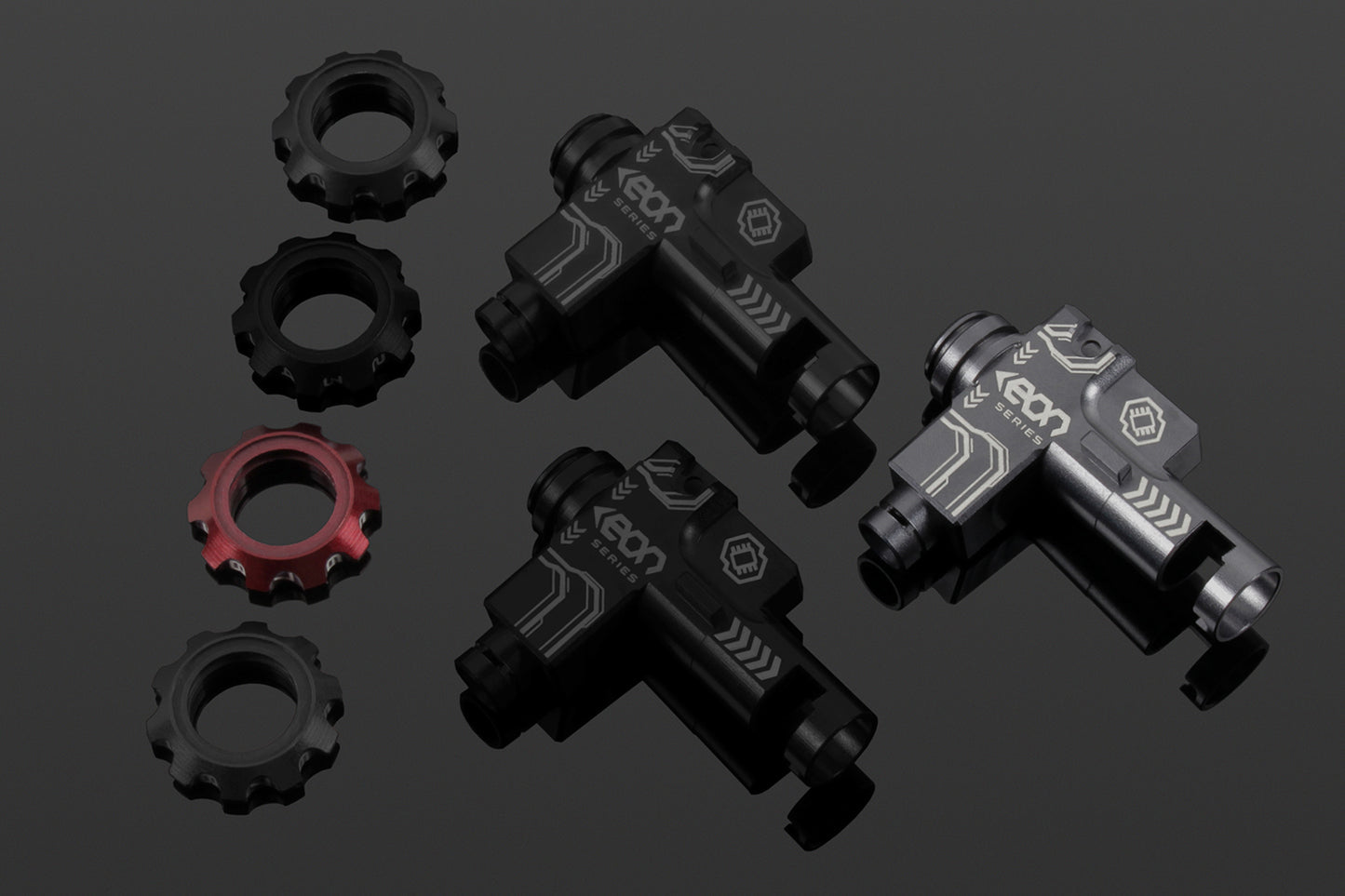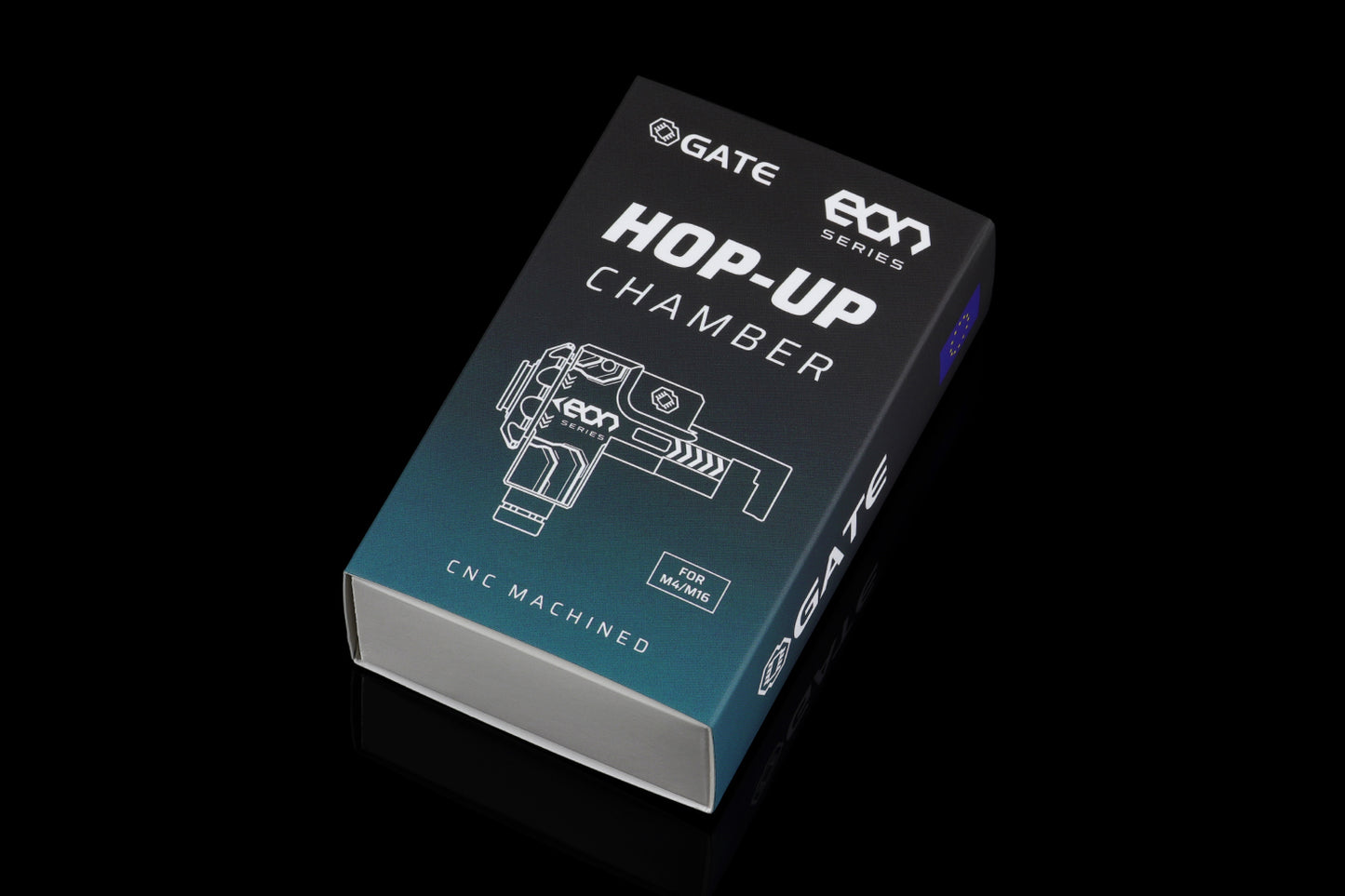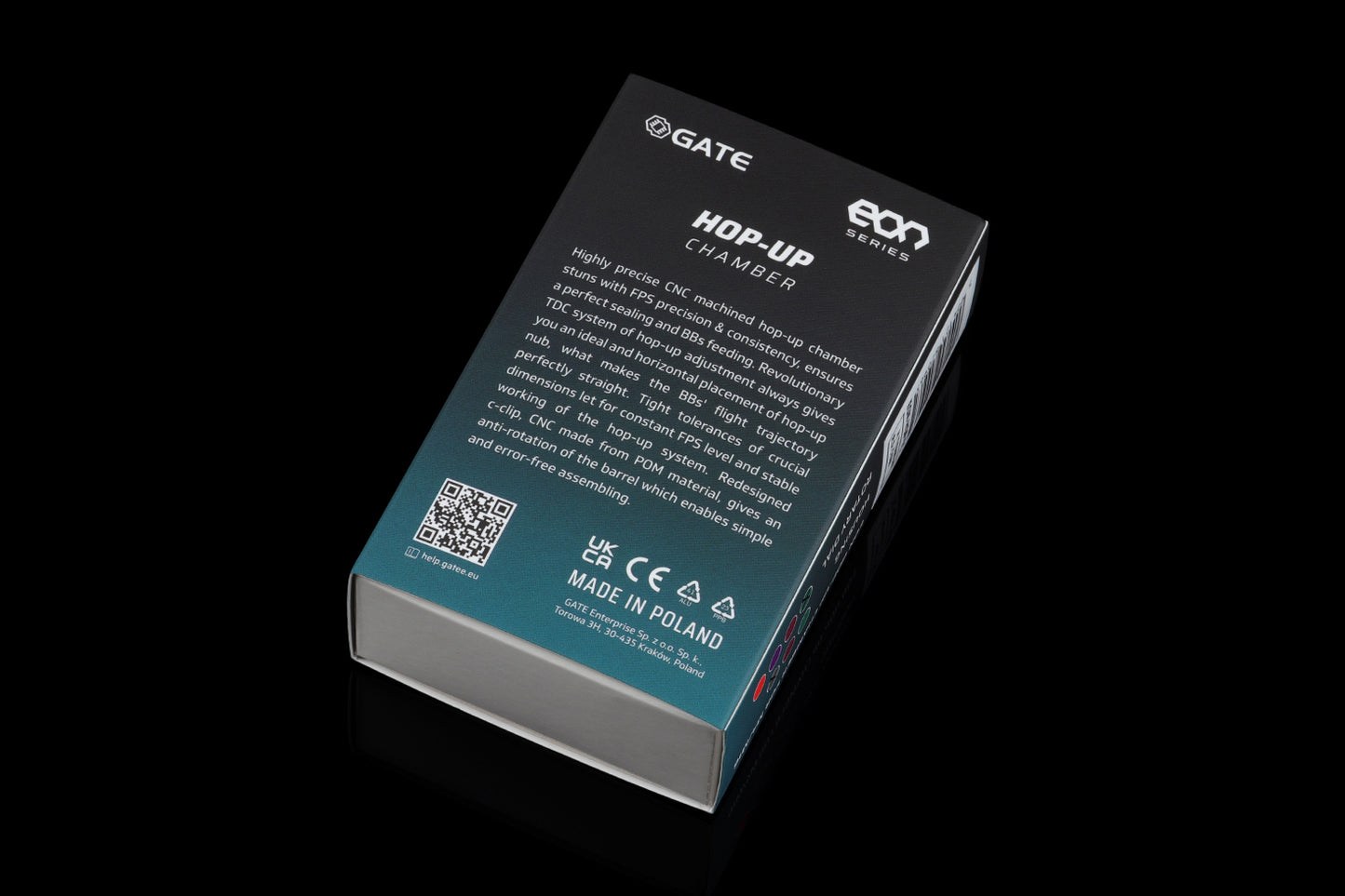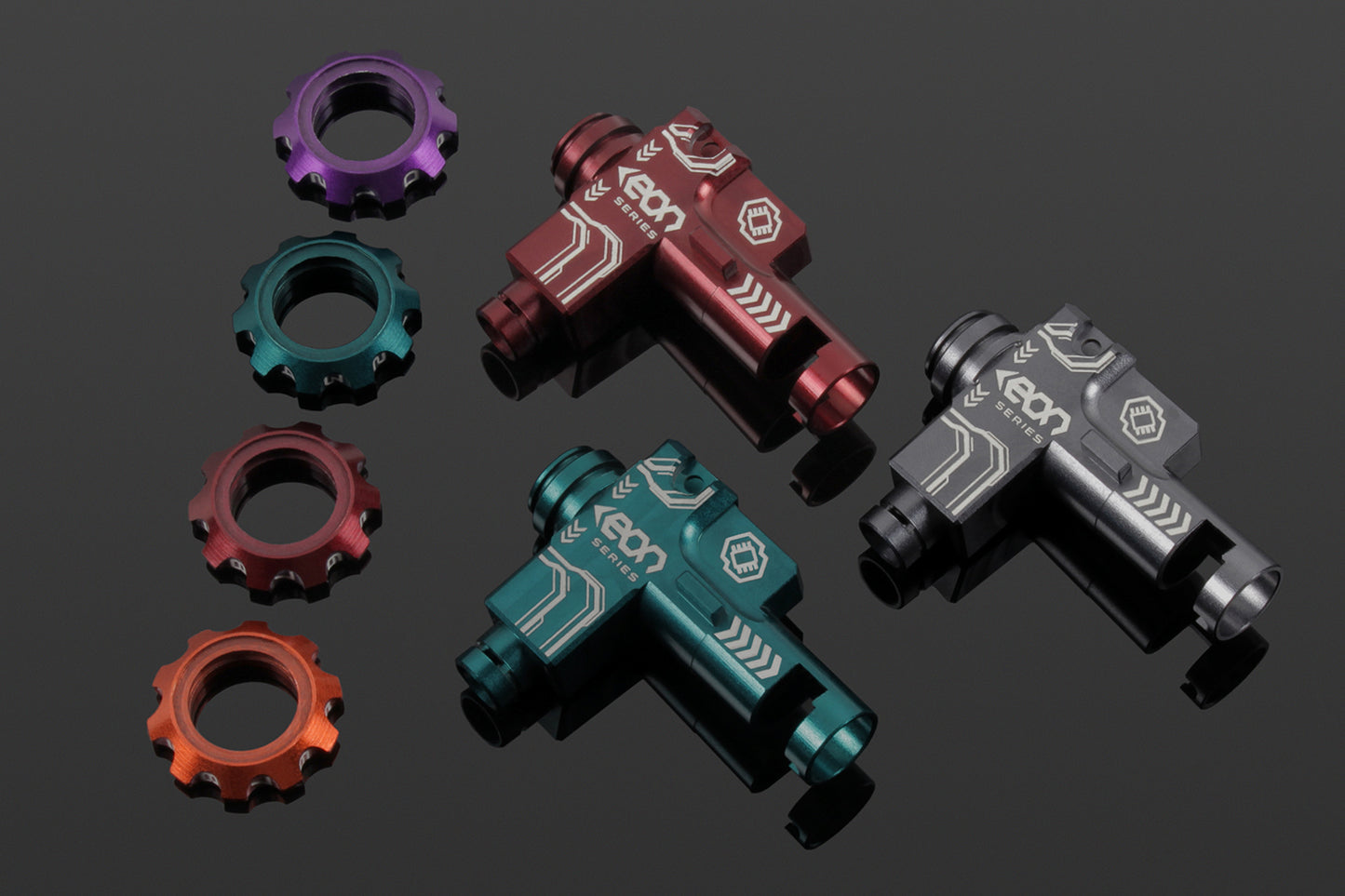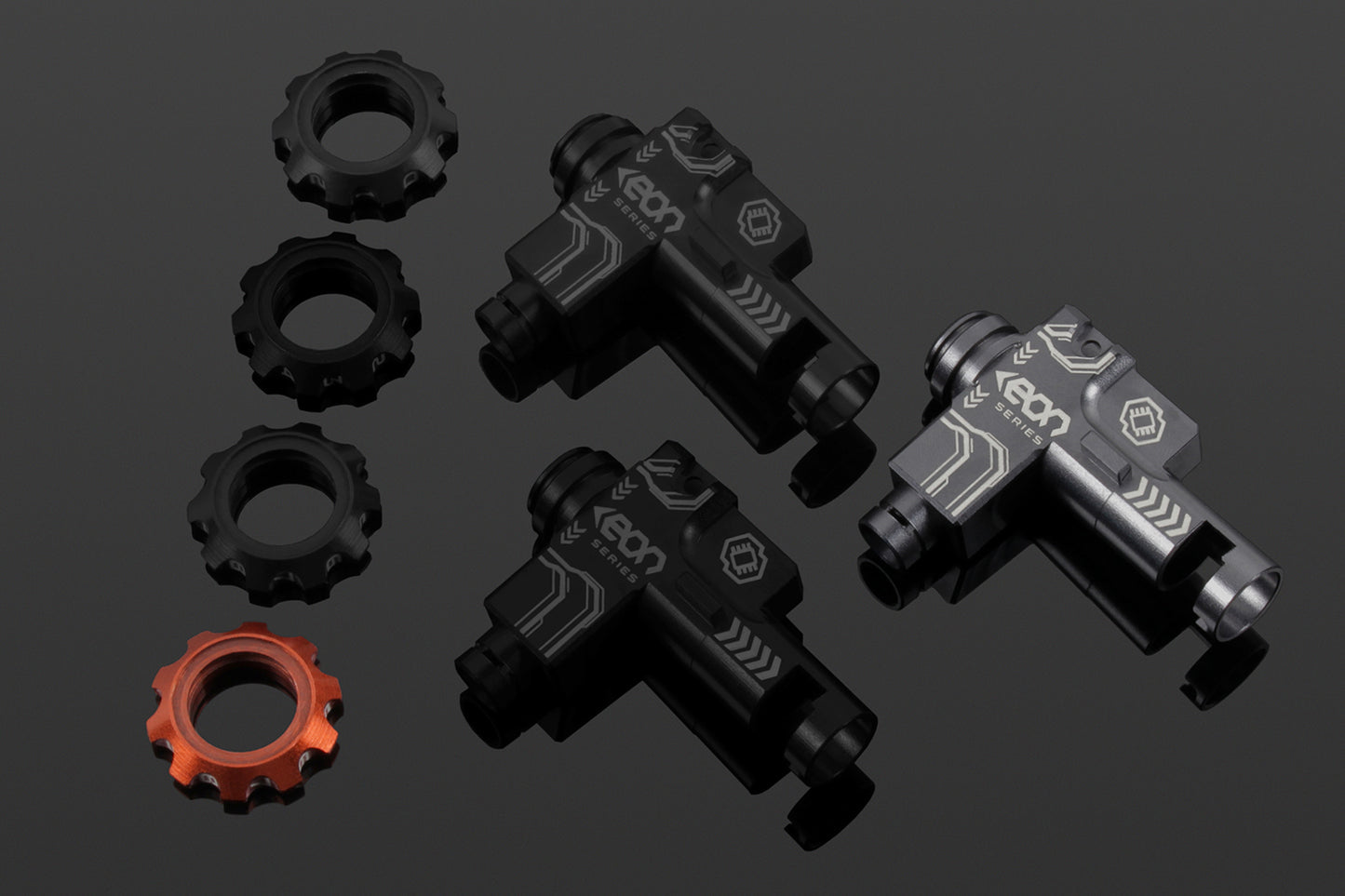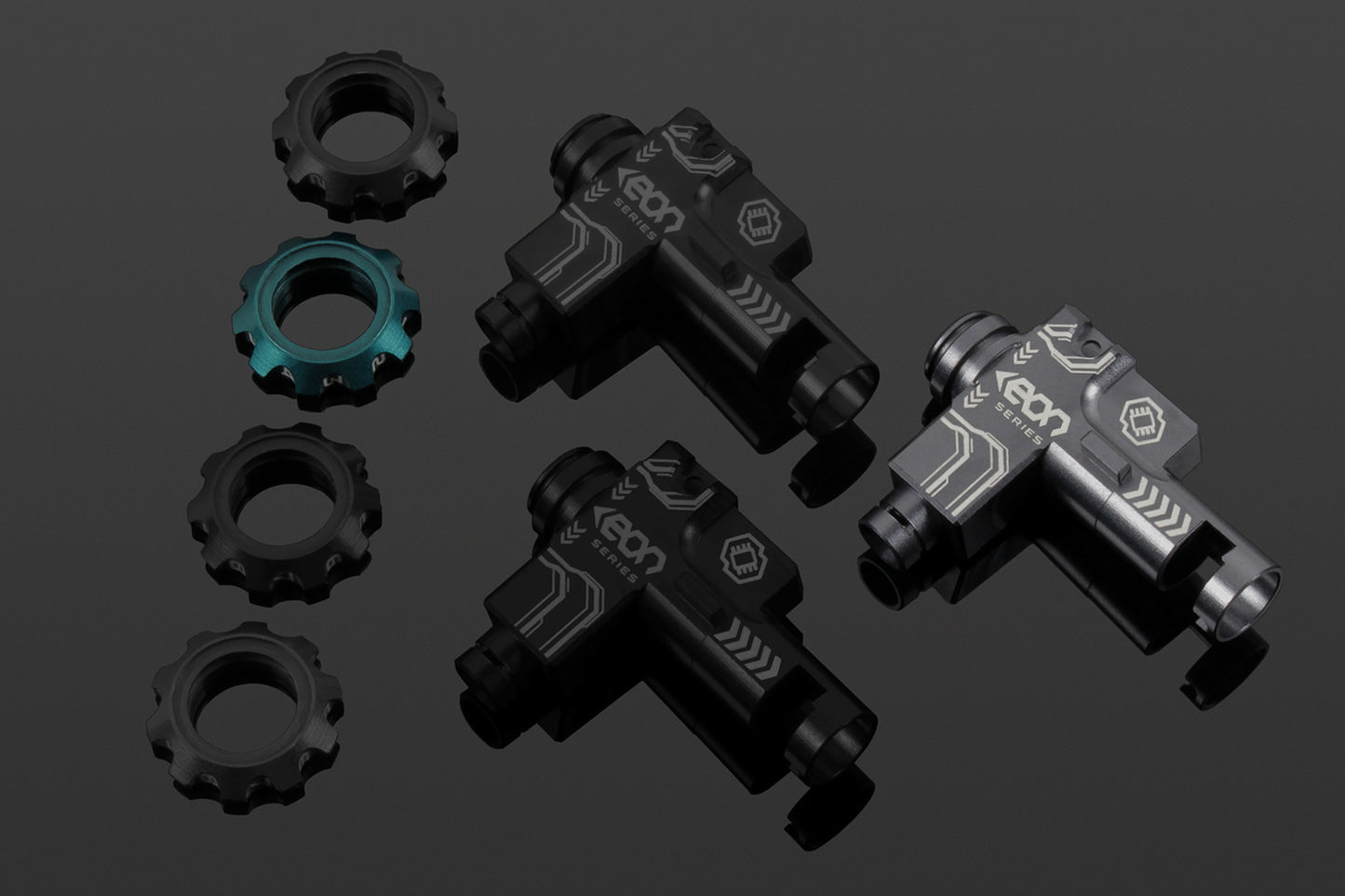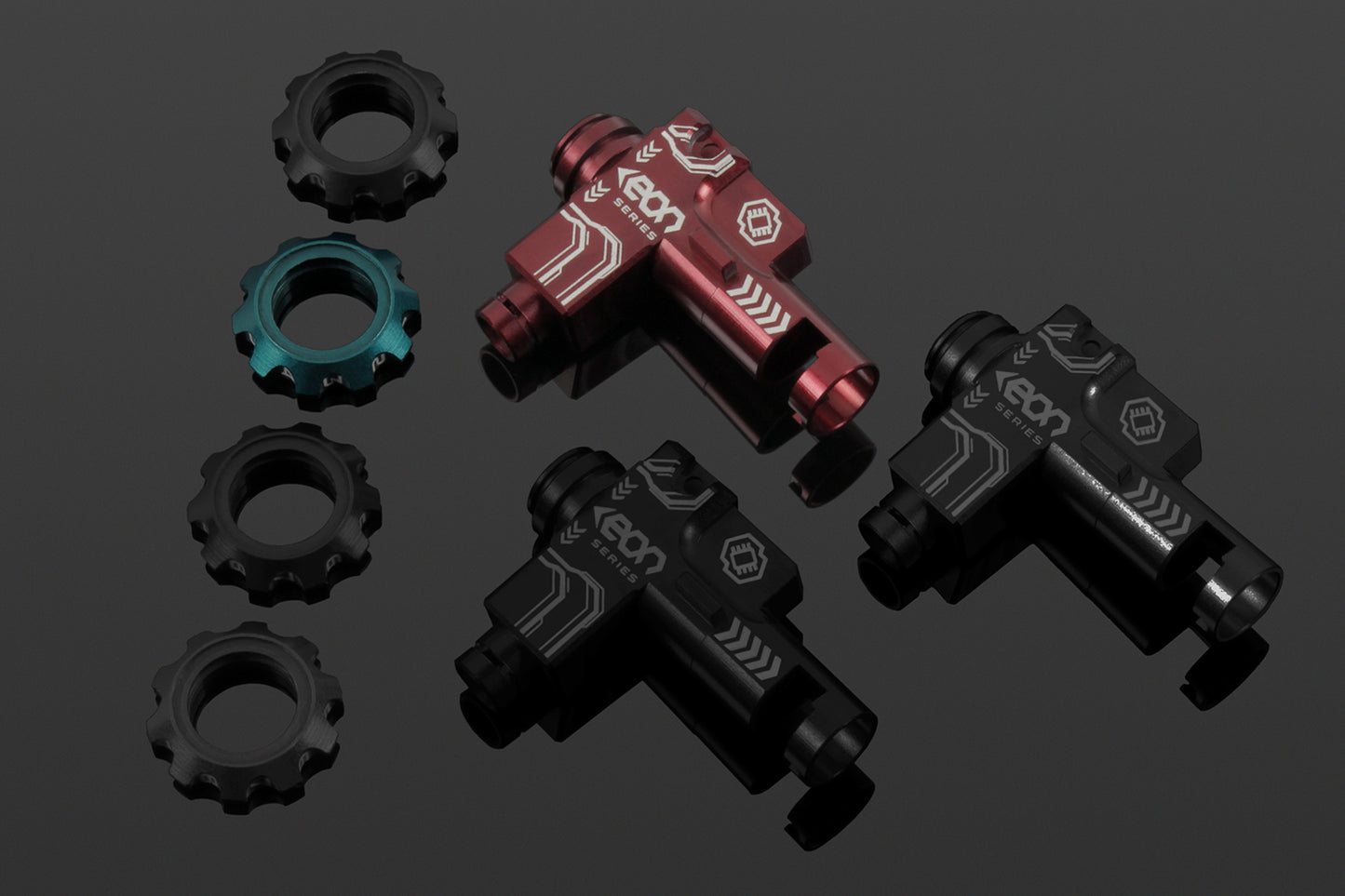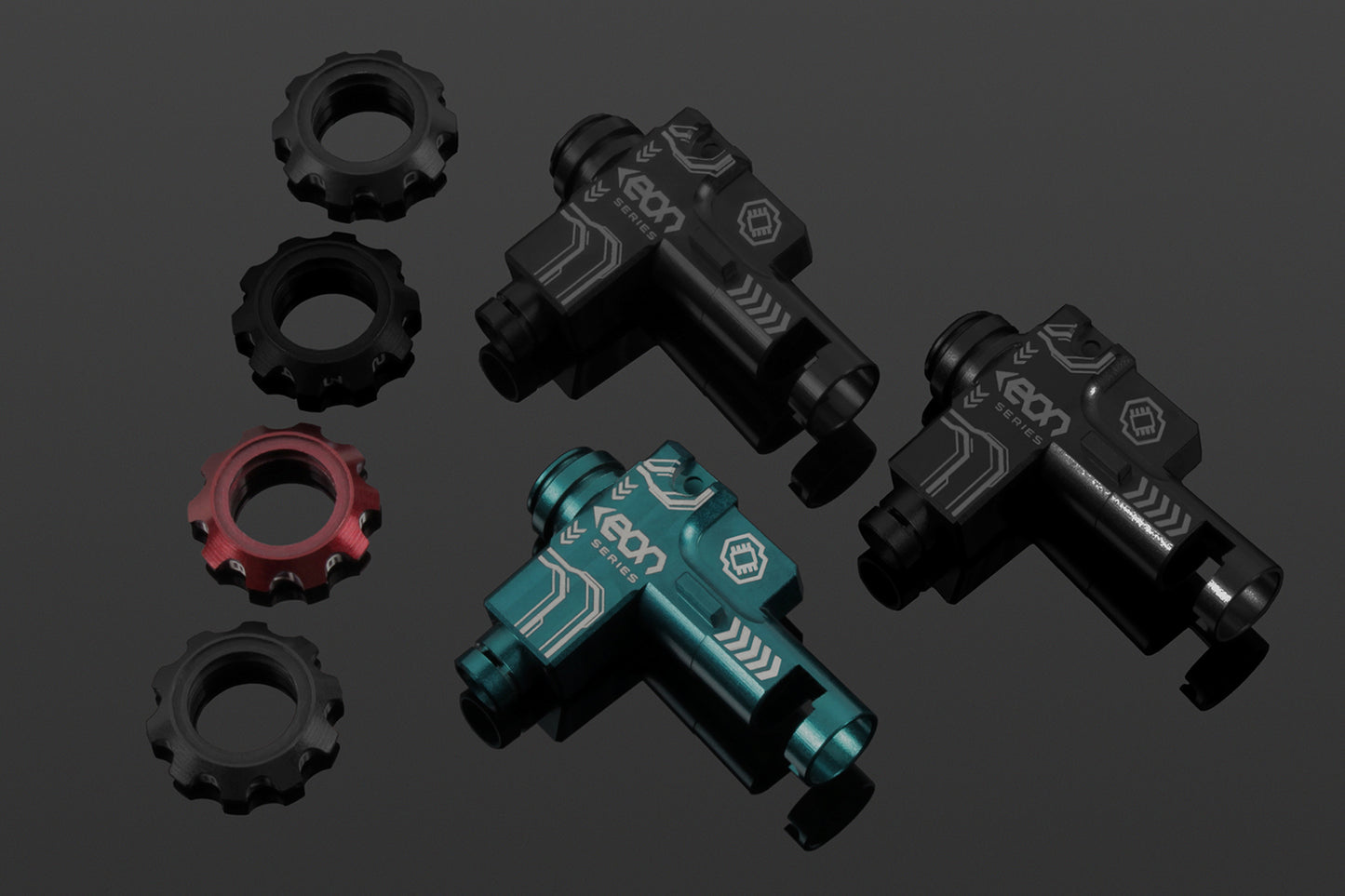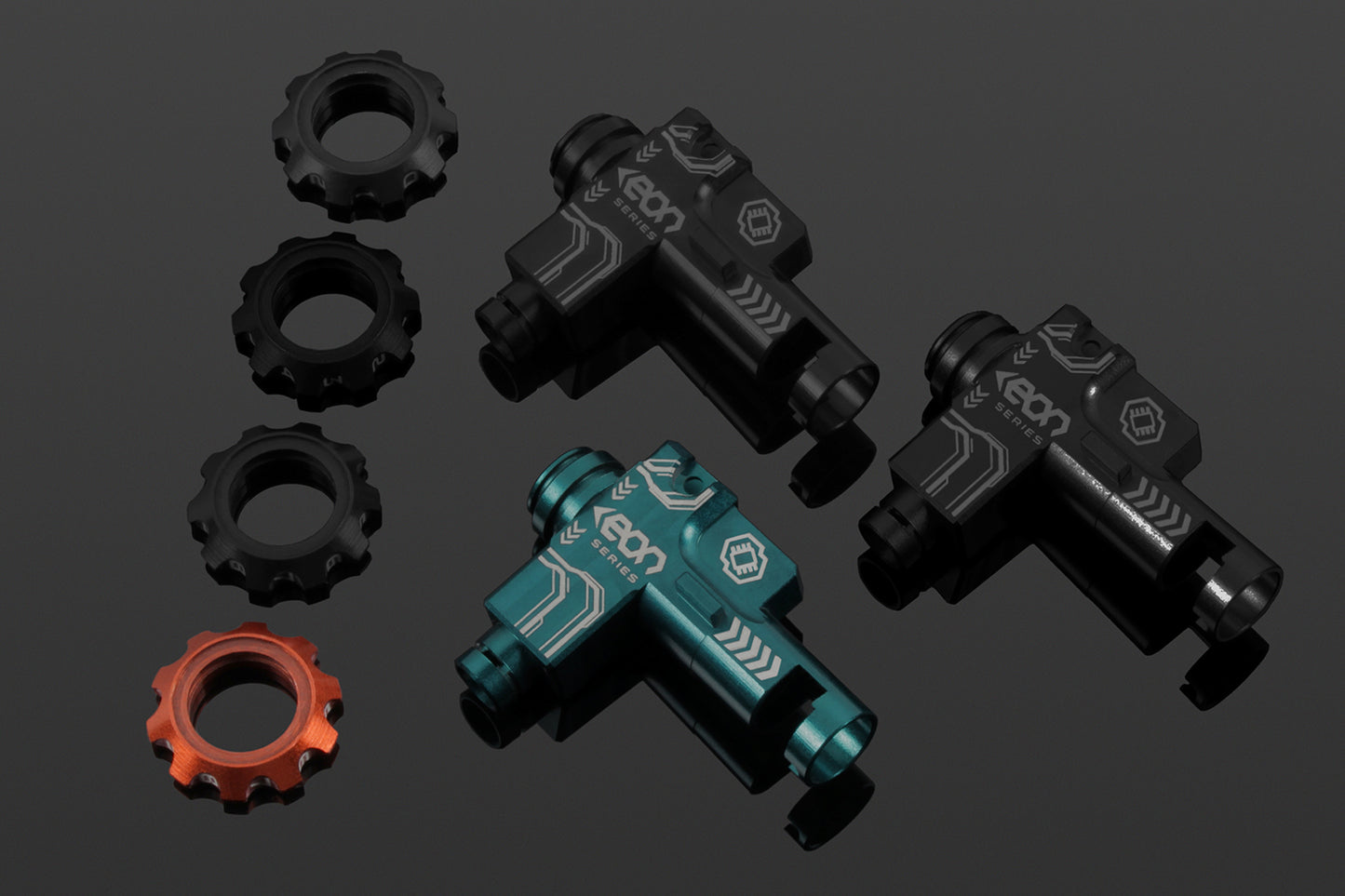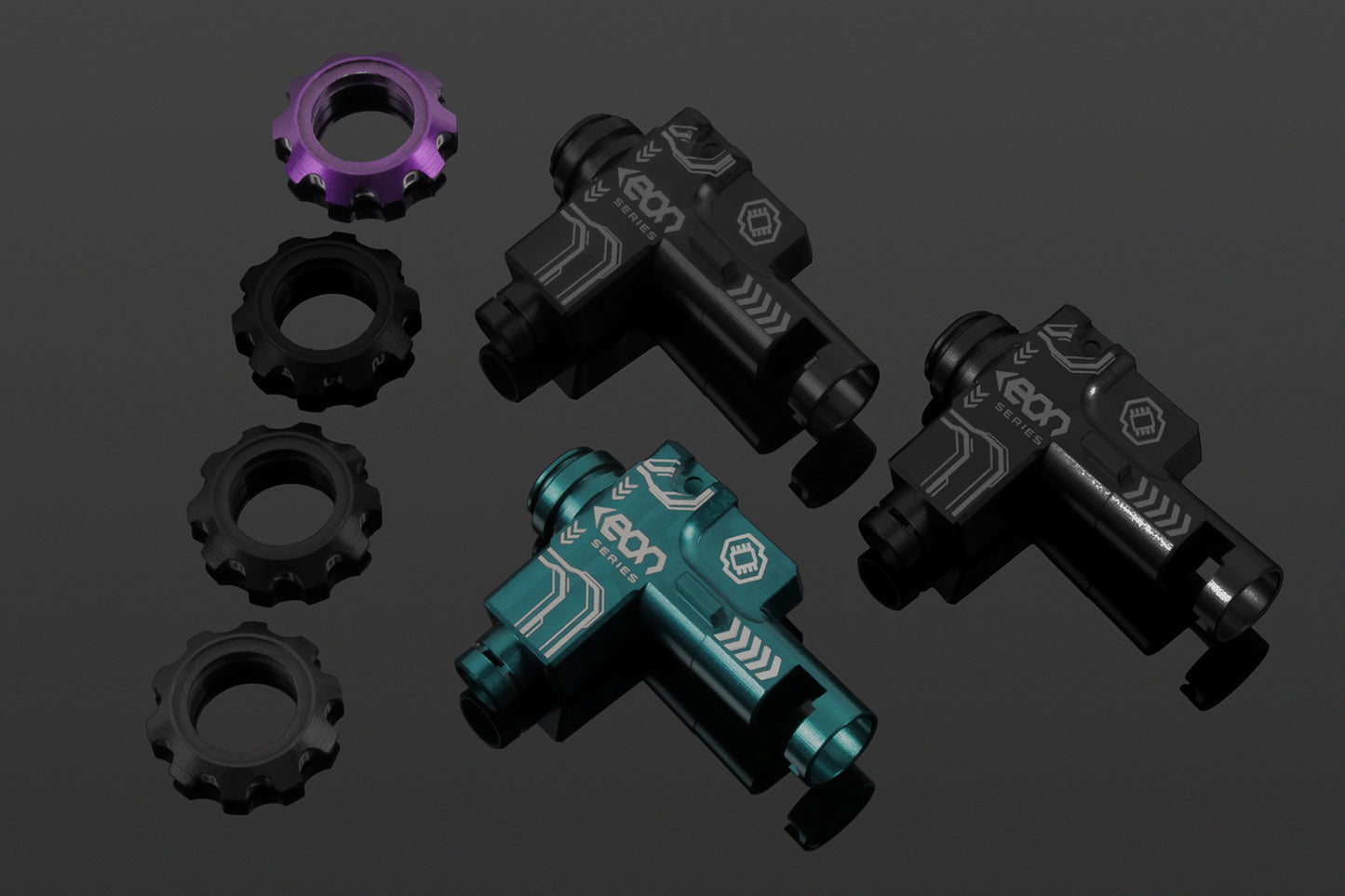 Shipping & Returns
| | | |
| --- | --- | --- |
| Destination | Express shipping via Fedex | Polish National Postal Service |
|  Europe | 2-7 business days | 1-2 weeks |
| Asia | 2-5 business days | not available |
| US/Canada | 2-3 business days | not available |
| Australia | 3-4 business days | not available |
*Please note that the above delivery times may be extended due to custom duty procedure.
1. The Goods purchased in the Online Store are delivered worldwide, subject to territorial restrictions under applicable laws.
2. The Goods are delivered via specialised courier companies or Poczta Polska (the Polish national postal operator). In some cases, the Goods may be personally collected from the Seller's registered office, and in the case of the Goods that represent digital content – they may be downloaded on an appropriate device.
3. The Goods are shipped within 1 to 3 (one to three) business days from payment booking. In some cases, the Goods can be shipped at a later date. This applies also to the Goods sold in advance (pre-sale). In such a case, the Seller shall inform the Client about a shipment date. An approximate shipment delivery date depends on a delivery method selected and a destination country, and is specified at order placement. When selecting a transfer payment option, the delivery time indicated on the Website shall be increased by time needed to credit the Client's entire payment to the Seller's bank account, usually 1-2 (one to two) business days. Further, in the case of countries outside the European Union, due to distance and potential customs controls the delivery time may be prolonged up to 5 weeks.
4. Detailed delivery method information is available in the Online Store in a Cart section of the given Product.
5. The Goods are shipped to an address specified in an order form or provided by phone or by e-mail. The Seller shall promptly inform the Client about the fact that an order form has been filled in incorrectly if this prevents or delays the conclusion of the Sales Agreement or the delivery of the Goods.
6. Prior to the acceptance of shipment from a postal or a courier service, packaging should be checked for any potential damage inflicted in transport. In particular, the condition of tapes or seals placed on the shipment shall be verified. If shipment package shows any signs of damage or if the seals (tapes) are removed, the shipment shall not be accepted, a damage report shall be prepared in the presence of a courier and the Seller shall be contacted as soon as possible in order to clarify the issue. If discrepancies in terms of shipment quantity or quality are not detected at the acceptance, this might adversely affect the resolution of the Client's claims filed due to shipment damage or theft in transport.
7. In the case of the Goods that represent the firmware upgrade of devices distributed by the Seller (digital content), the Client, upon the placement of the Order, conclusion of the Sales Agreement and payment, shall connect to a GATE CONTROL STATION desktop application via a USB-Link or Blu-Link device and install the upgrade purchased.
You may also like
Regular price

57,73 EUR

Sale price

52,48 EUR

Unit price

per

Regular price

160,65 EUR

Sale price

137,92 EUR

Unit price

per

Regular price

32,80 EUR

Sale price

29,51 EUR

Unit price

per