Regular price
EUR 0,00
Sale price
EUR 76,04
Unit price
per
Sale
Sold out
Lowest price last 30 days: (November 10, 2023)
Color may vary slightly depending on batch.
*Free express shipping via courier on all orders over 250 EUR
Shipping & Returns
Blu-Link allows for wireless management of your GATE ETU via GCS App for iOS, Android and in the future, also Windows & macOS. You can use your iPhone, Android smartphone or a computer to control ASTER or TITAN and connect them with other compatible GATE devices, such as the tactical computer STATUS. Blu-Link perfectly expands GATE ETUs' possibilities by equipping them with Bluetooth® 5.0 technology.
Blu-Link also acts as an additional fuse and multifunctional wattmeter allowing for, e.g., reading telemetry data, which enables you to constantly monitor the AEG condition.
If your AEG already has a factory mounted ASTER or TITAN, adding Blu-link is that final little step taking you to the era of replicas controlled wirelessly
Key features
Bluetooth®

 

adapter –

 

adds Bluetooth® functions to TITAN and ASTER
Wireless connection between GATE ETU and compatible GATE devices –

 

enables connecting ASTER or TITAN with other elements of the GATE ecosystem (e.g. STATUS)
Compatibility with GCS App for iOS, Android and

in the future,

 also Windows/macOS
Option to switch between

 

data transfer and firing mode

 

from the app level
Additional configurable smart fuse (UVP, SCP, OCP, OTP)

 

–

 

protects the battery in case of short circuiting wires between Blu-Link and TITAN or ASTER or other system failure. It provides under voltage, over current and over temperature protection
Multifunctional wattmeter

 

allowing for, e.g. reading telemetry data
Conformal coating

 

(Military Specification MIL-V-173C)
Advantages
Designed to consume very little power
Full mobility – no cables needed to connect with the GCS App and STATUS
In the data transfer mode, it allows for programming, changing settings, and updating TITAN and ASTER firmware via GCS
Can be plugged between the ETU and the battery through entire skirmish – no need to detach the battery for configuration or checking the Statistics (contrary to the USB-Link)
GATE Control Station App
Together with GCS, you can adjust TITAN or ASTER settings and update their firmware from devices with Android, iOS and in the future also Windows & macOS. GCS allows you to:
control your airsoft gun
simply adjust GATE ETU settings
update firmware
see the BB counters and measurements statistics
perform diagnostics and send reports
GATE Control Station download page 
USB-Link vs. Blu-Link 
| | | |
| --- | --- | --- |
|   | USB-Link | Blu-Link |
| GCS App for ASTER and TITAN | ✔ | ✔ |
| iOS |   | ✔ |
| Android | ✔ | ✔ |
| No need to disconnect battery during skirmish or for programming |   | ✔ |
| Wireless – Bluetooth® |   | ✔ |
| Full mobility |   | ✔ |
| Connection with other GATE ecosystem elements |   | ✔ |
Kit Contents:

Blu-Link
Connectors set
Troubleshooting Card
PIN Card
QuickStart Guide
Share
View full details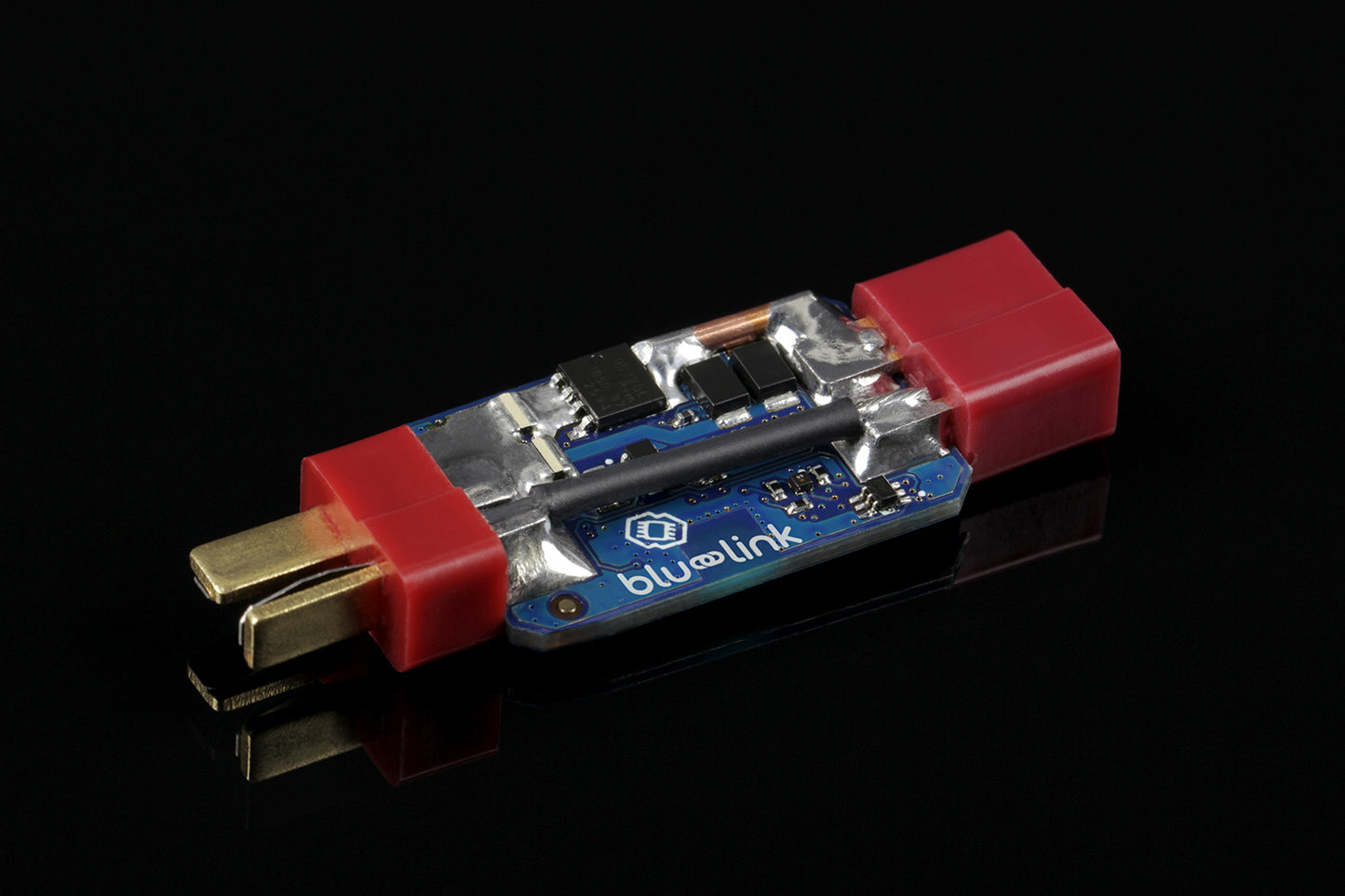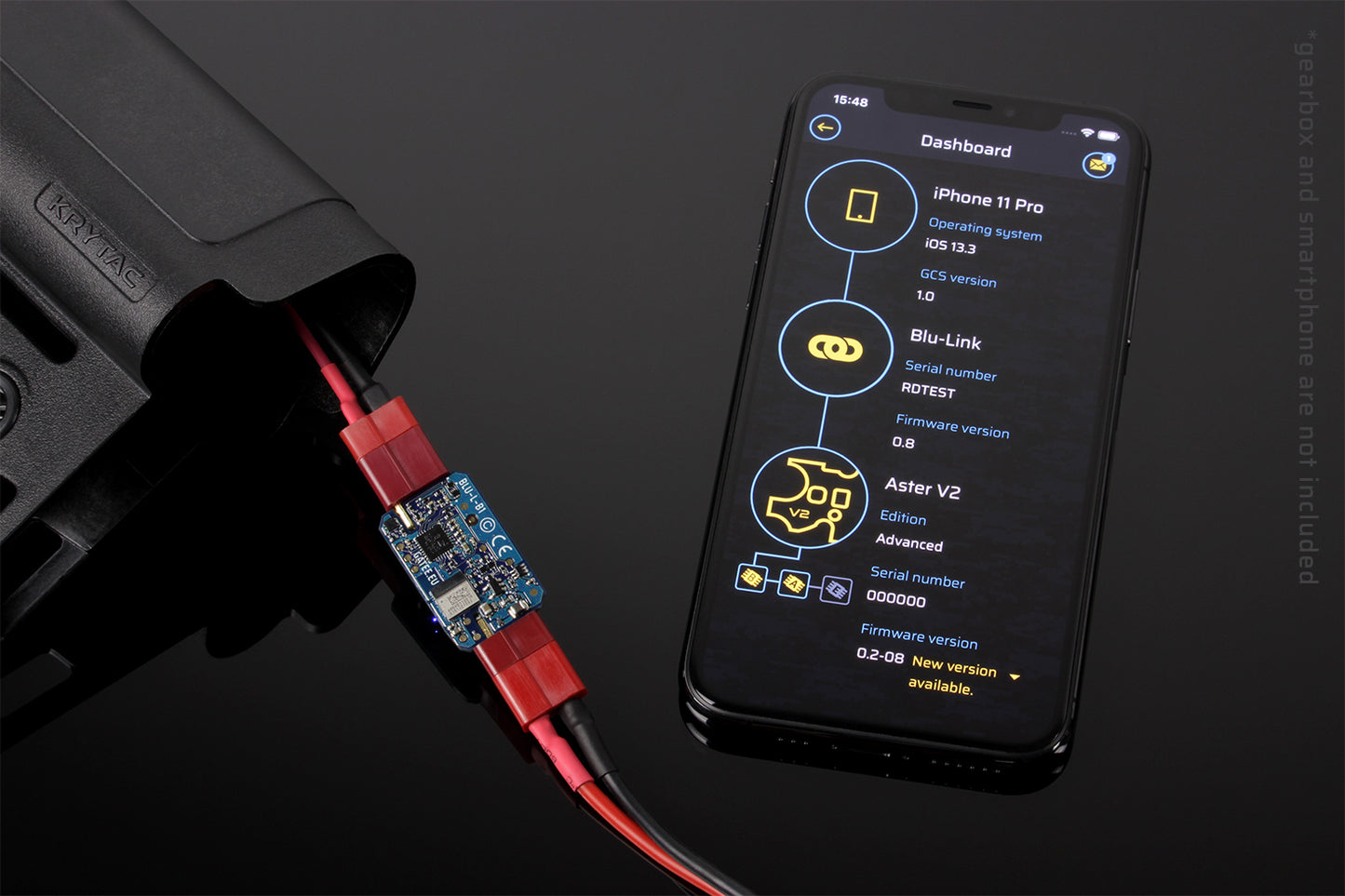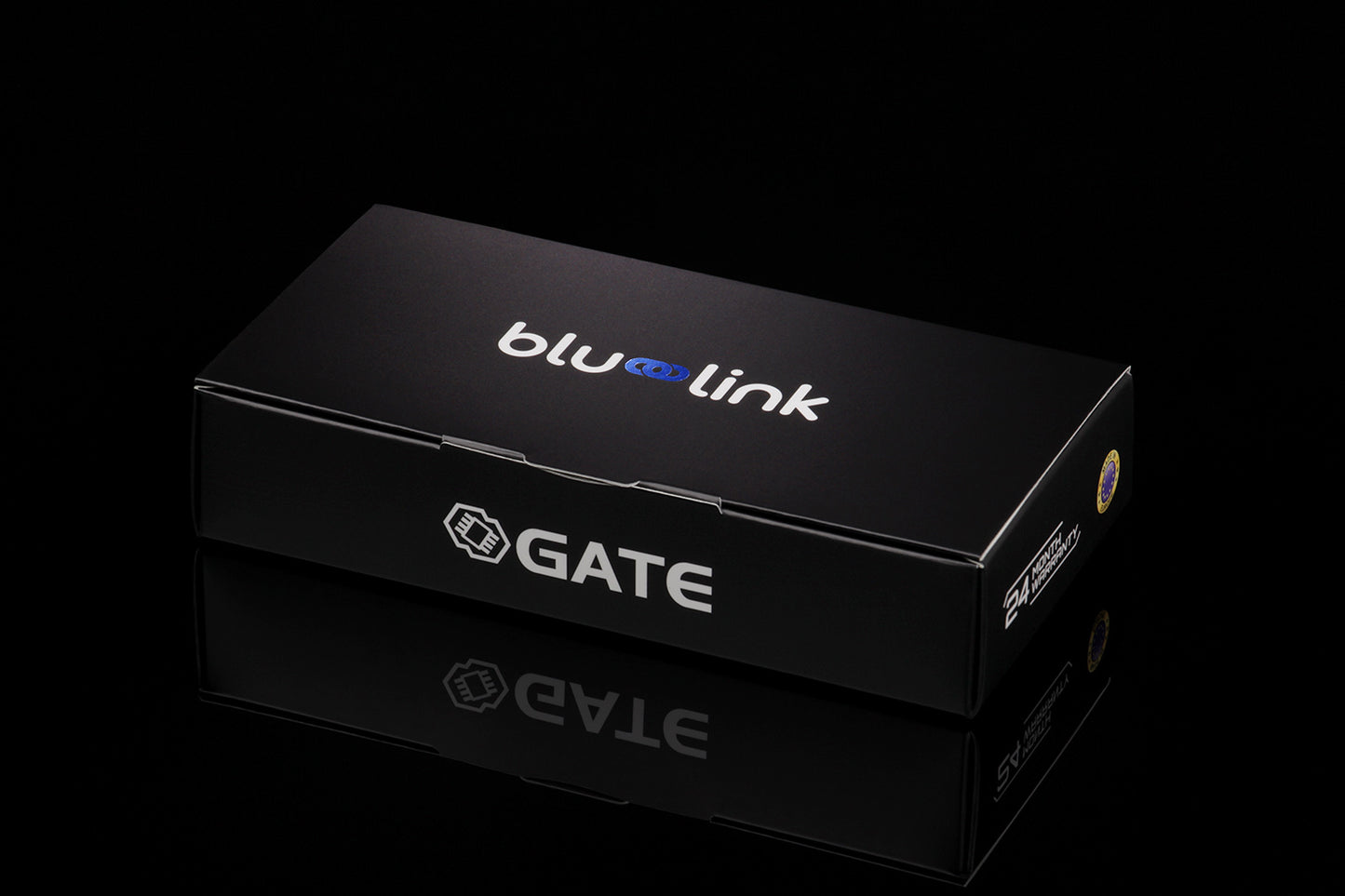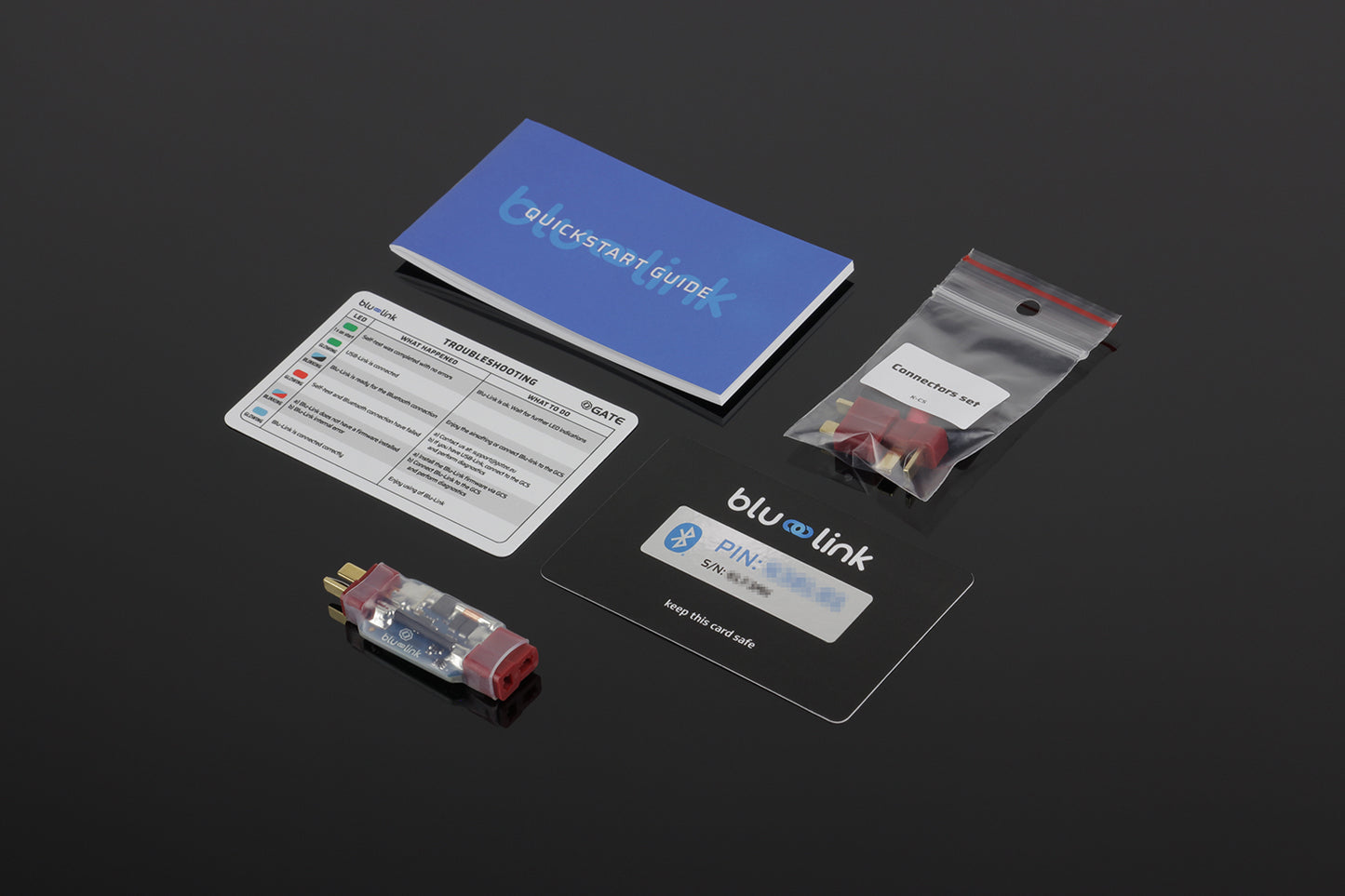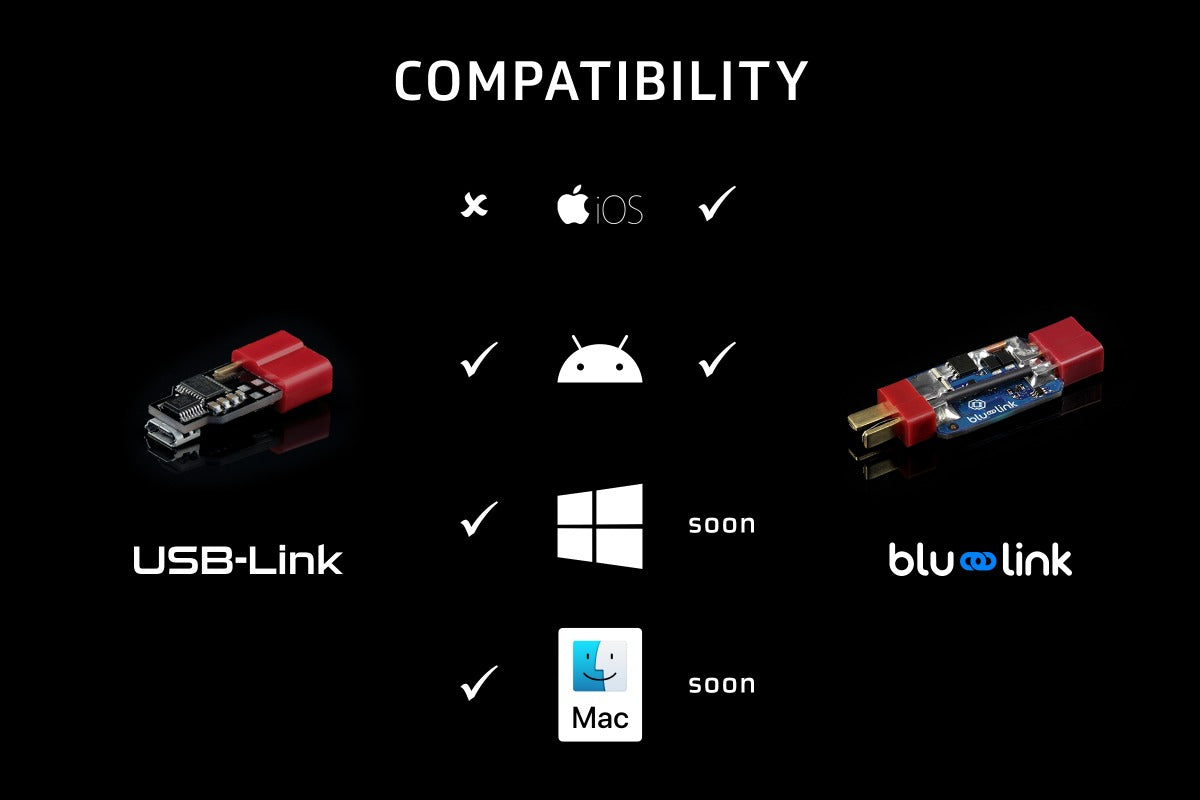 Shipping & Returns
| | | |
| --- | --- | --- |
| Destination | Express shipping via Fedex | Polish National Postal Service |
|  Europe | 2-7 business days | 1-2 weeks |
| Asia | 2-5 business days | not available |
| US/Canada | 2-3 business days | not available |
| Australia | 3-4 business days | not available |
*Please note that the above delivery times may be extended due to custom duty procedure.
1. The Goods purchased in the Online Store are delivered worldwide, subject to territorial restrictions under applicable laws.
2. The Goods are delivered via specialised courier companies or Poczta Polska (the Polish national postal operator). In some cases, the Goods may be personally collected from the Seller's registered office, and in the case of the Goods that represent digital content – they may be downloaded on an appropriate device.
3. The Goods are shipped within 1 to 3 (one to three) business days from payment booking. In some cases, the Goods can be shipped at a later date. This applies also to the Goods sold in advance (pre-sale). In such a case, the Seller shall inform the Client about a shipment date. An approximate shipment delivery date depends on a delivery method selected and a destination country, and is specified at order placement. When selecting a transfer payment option, the delivery time indicated on the Website shall be increased by time needed to credit the Client's entire payment to the Seller's bank account, usually 1-2 (one to two) business days. Further, in the case of countries outside the European Union, due to distance and potential customs controls the delivery time may be prolonged up to 5 weeks.
4. Detailed delivery method information is available in the Online Store in a Cart section of the given Product.
5. The Goods are shipped to an address specified in an order form or provided by phone or by e-mail. The Seller shall promptly inform the Client about the fact that an order form has been filled in incorrectly if this prevents or delays the conclusion of the Sales Agreement or the delivery of the Goods.
6. Prior to the acceptance of shipment from a postal or a courier service, packaging should be checked for any potential damage inflicted in transport. In particular, the condition of tapes or seals placed on the shipment shall be verified. If shipment package shows any signs of damage or if the seals (tapes) are removed, the shipment shall not be accepted, a damage report shall be prepared in the presence of a courier and the Seller shall be contacted as soon as possible in order to clarify the issue. If discrepancies in terms of shipment quantity or quality are not detected at the acceptance, this might adversely affect the resolution of the Client's claims filed due to shipment damage or theft in transport.
7. In the case of the Goods that represent the firmware upgrade of devices distributed by the Seller (digital content), the Client, upon the placement of the Order, conclusion of the Sales Agreement and payment, shall connect to a GATE CONTROL STATION desktop application via a USB-Link or Blu-Link device and install the upgrade purchased.