Regular price
517,19 EUR
Sale price
469,93 EUR
Unit price
per
Sale
Sold out
Lowest price last 30 days: (August 28, 2023)
TITAN II Bluetooth® with EXPERT Firmware
Color may vary slightly depending on batch.
Free express shipping via courier on all orders over 250 EUR
About

GATE EON Complete V2 Gearbox with TITAN II Bluetooth®


Versions:

SSG 350 FPS / 1.2 J
Full Cycle 450 FPS / 1.9 J
Joules measured for 0.25 g BBs and a 300 mm barrel.

 

EON Complete V2 Gearbox with TITAN II Bluetooth® includes top-notch internal components. GATE analyzed and gathered the most advanced technologies available for AEGs and constructed the top-class gearbox, with no savings on parts. Instead of thinking about tuning, now you can obtain at a fair price a ready-to-use, complete gearbox with warranty. Over a million of shots fired to build the best and most reliable hi-end gearbox.

 
Features:

The build of best performance ensures insane trigger reaction and reliability

Preinstalled newest TITAN II Bluetooth® ETU gives you an extremely innovative advantage

Hi-end tuning parts, like GATE EON CNC Gearbox, EON Pneumatics set

First in the market Bluetooth® communication straight out of the box

Free access to GCS app lets you customize your replica settings live

2-year limited warranty for the Complete Gearbox (we run extreme tests of hundreds of thousands shots) *

2-year limited warranty for TITAN II Bluetooth®


life-time limited warranty for gearbox shell



Plug & Play straight out of the box - easy installation

 

* Out-of-the-box ROF is limited up to 25RPS. This is a safeguard against component failure, when we offer full 2 year warranty.
You can exclude this limit by waiving the warranty for mechanical damage to internal parts in the GCS.
The warranty on the ETU and gearbox shell remains unchanged.
Part list:

GATE EON V2 Gearbox (Titanium)

TITAN II Bluetooth® for V2 gearbox

Nova Trigger

High speed gear set 13:1 (for 450 fps) or SSG gear set 13:1 (for 350 fps)

Springs used are SSG for M110 and FSG for M120

Reinforced CNC Piston with full steel tooth rack

EON Protector Cylinder Head

EON High speed Piston Head

CNC POM sealed nozzle - 21.25mm

Polished stainless steel cylinder

EON Tappet Plate

Reinforced anti-reversal latch

Reinforced and low-friction 8mm bearings
The most important 'why-to-buy' reasons:

reliability - a guarantee that everything works and will work

price - significantly cheaper than buying parts separately

perfectly fitted out-of-the-box

no service time and costs
Gate Control Station App

GATE ETU and GCS app give you total control of your AEG. The GCS offers you the option to:

control your airsoft gun from a smartphone with Android, iOS and 

PC with Windows or 

macOS

get real-time data from the

 

smartwatch

 

(with Wear OS or watchOS) to reinforce your tactical decisions and get the advantage necessary to win. No more surprises with an empty magazine or a discharged battery. 
simply adjust the ASTER settings
update and upgrade firmware
see the BB counters and Measurements statistics
perform diagnostics and send reports
Shipping & Returns
Share
View full details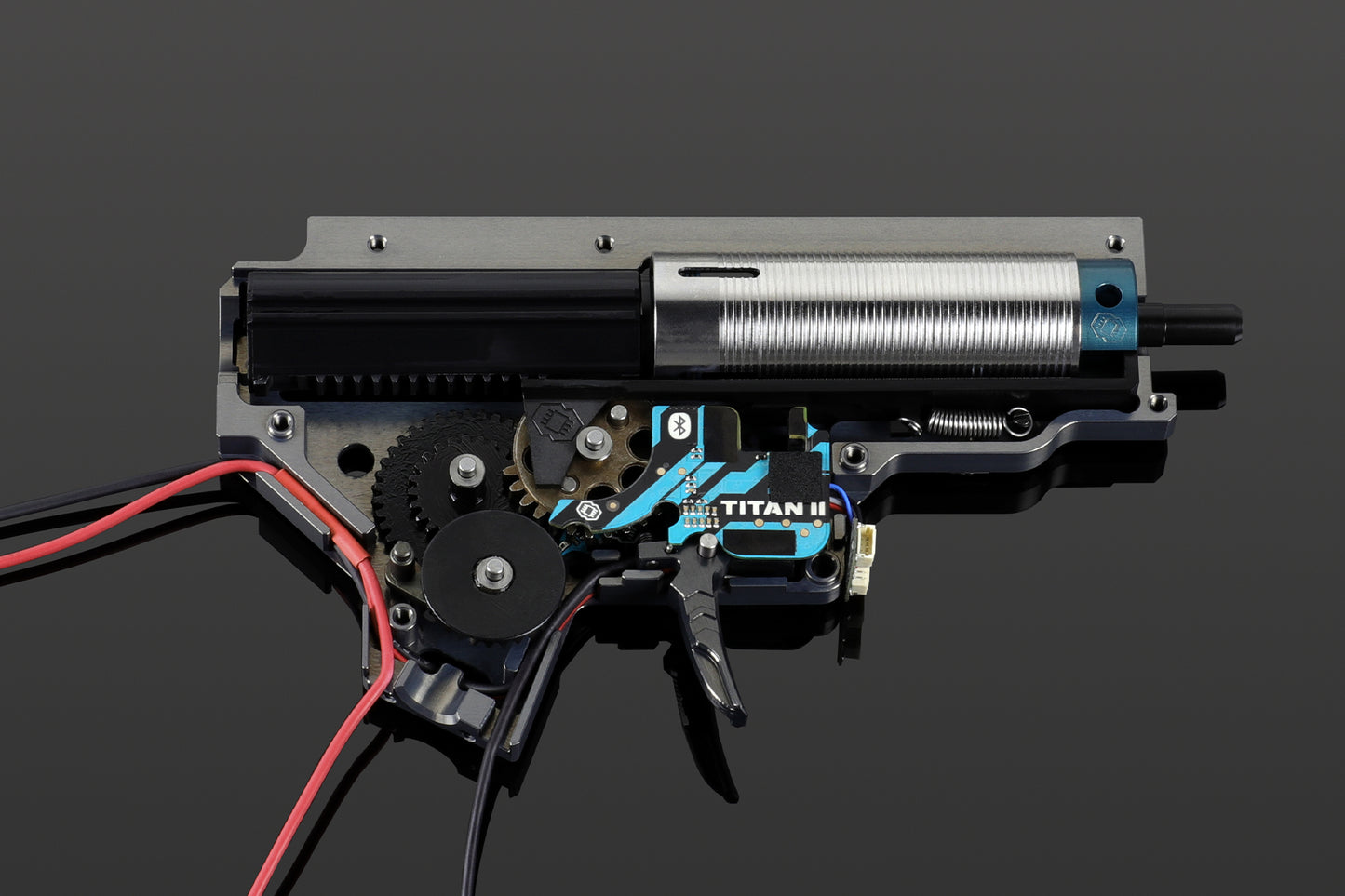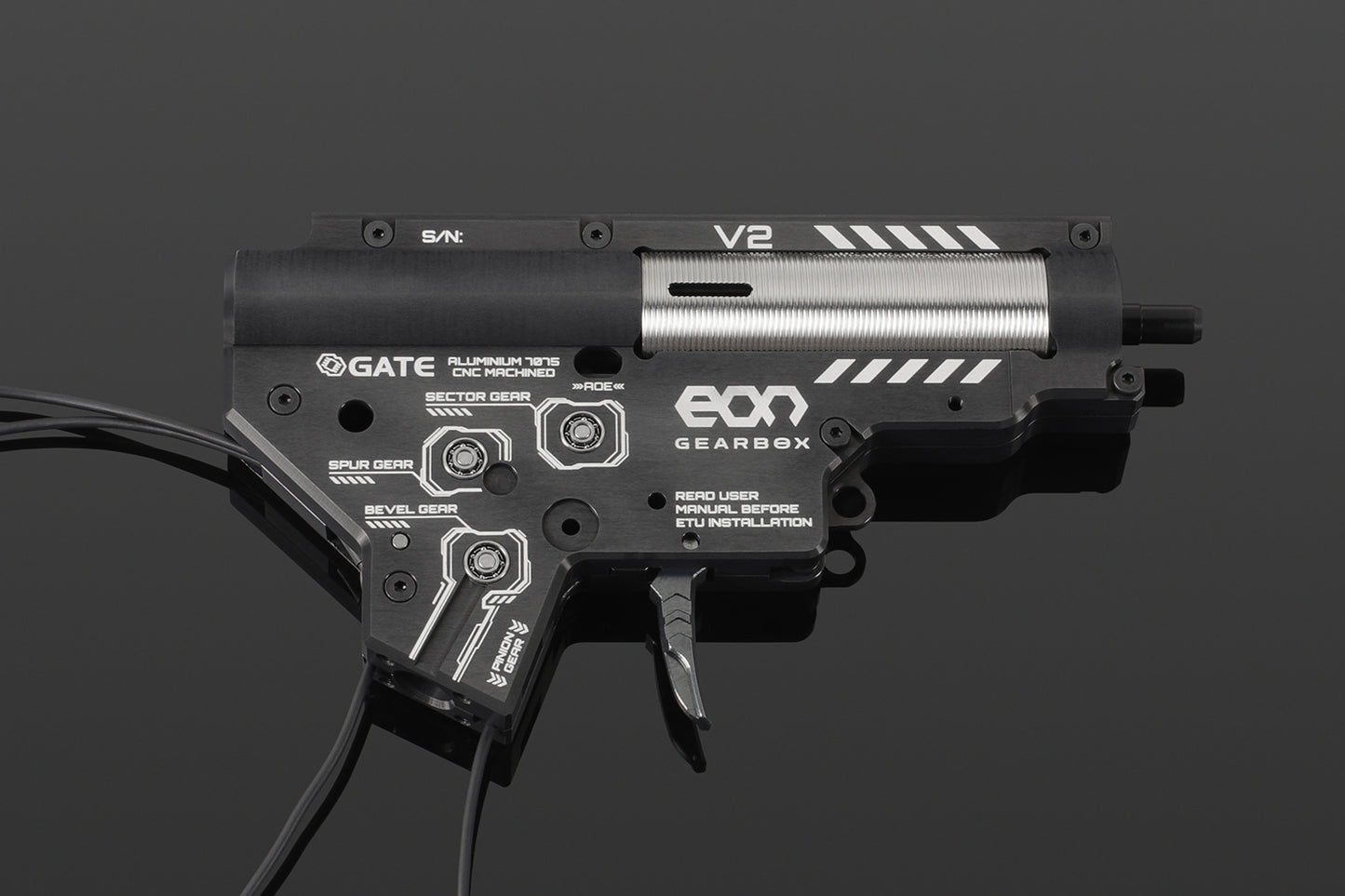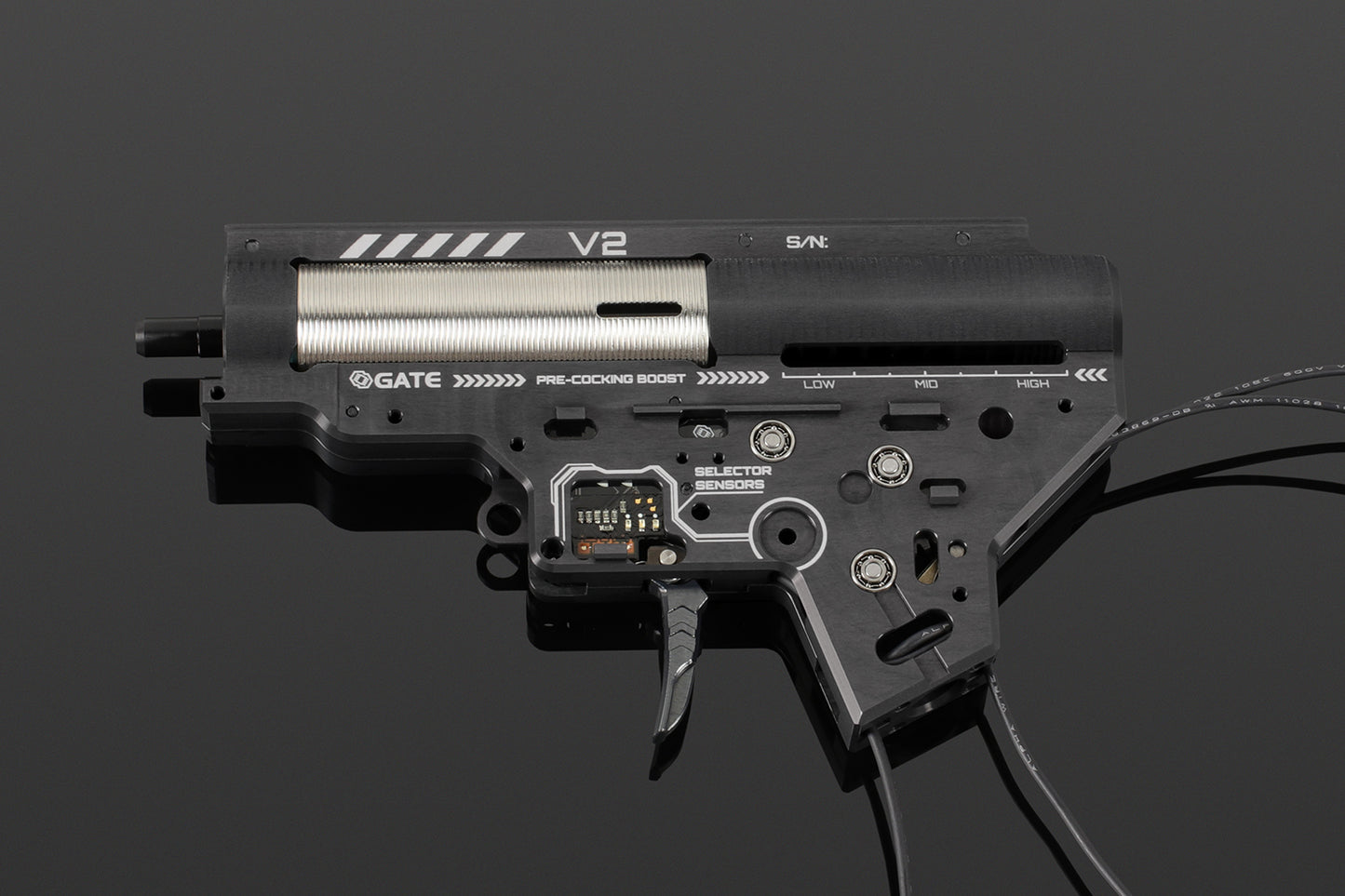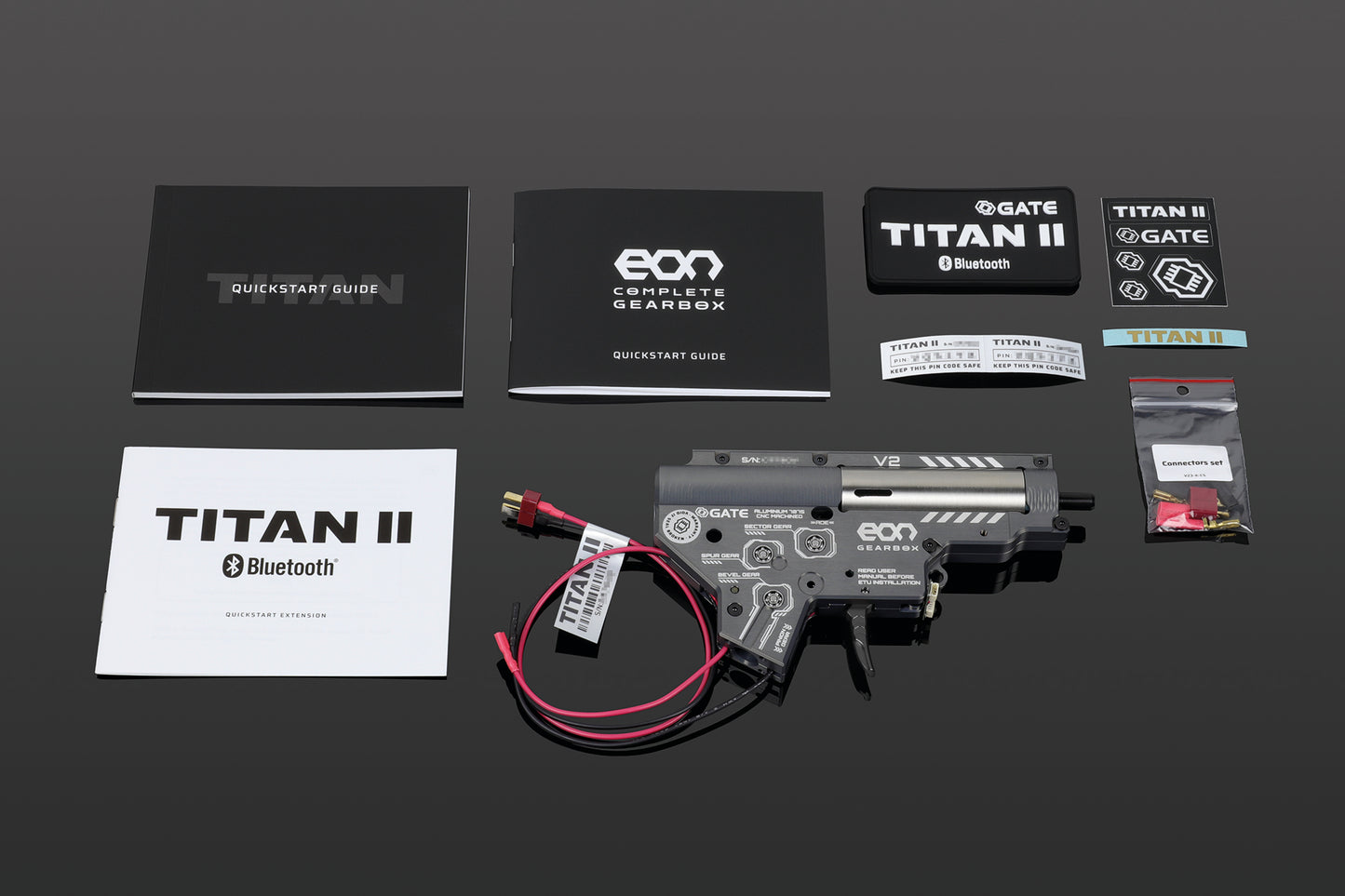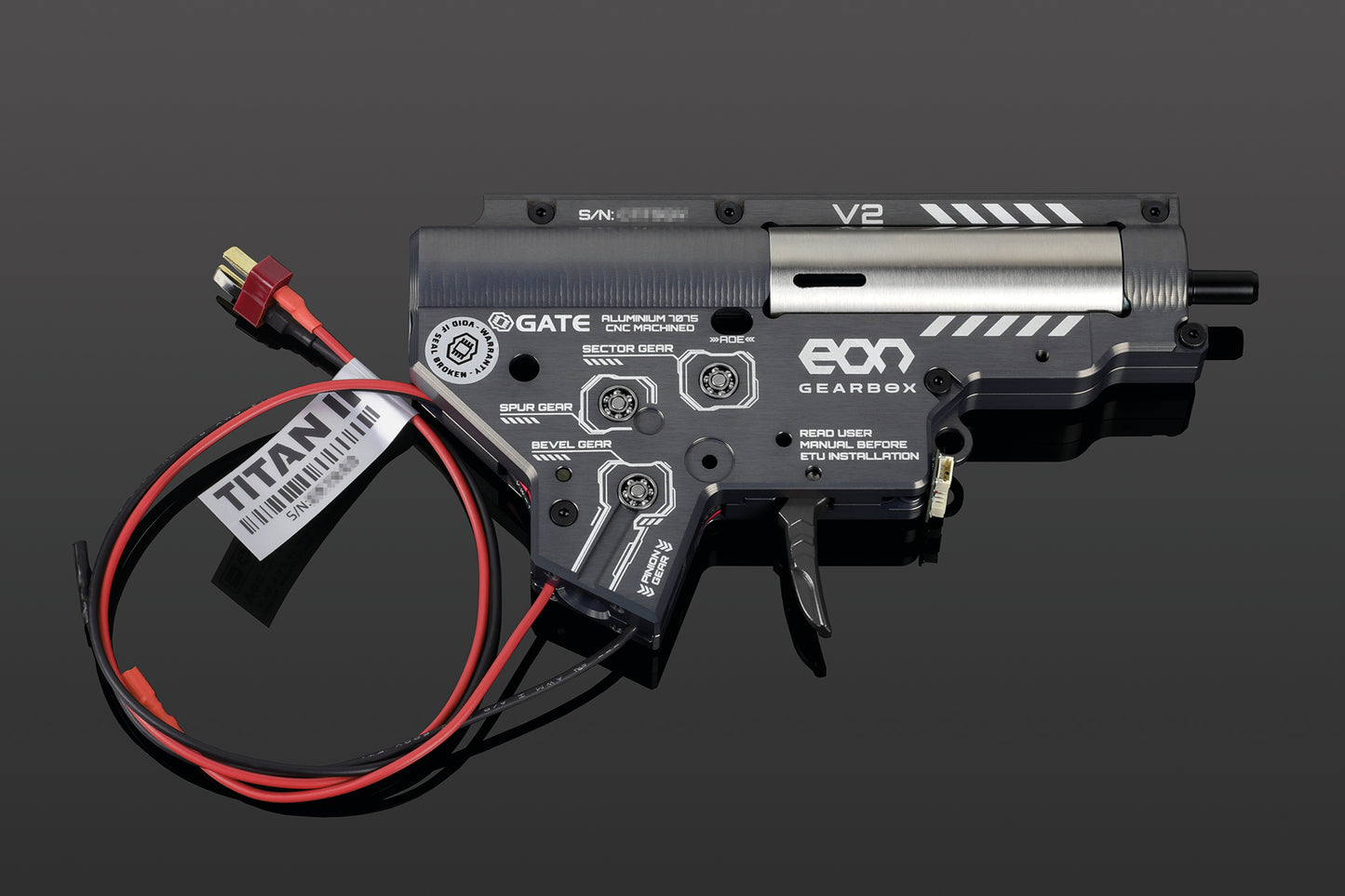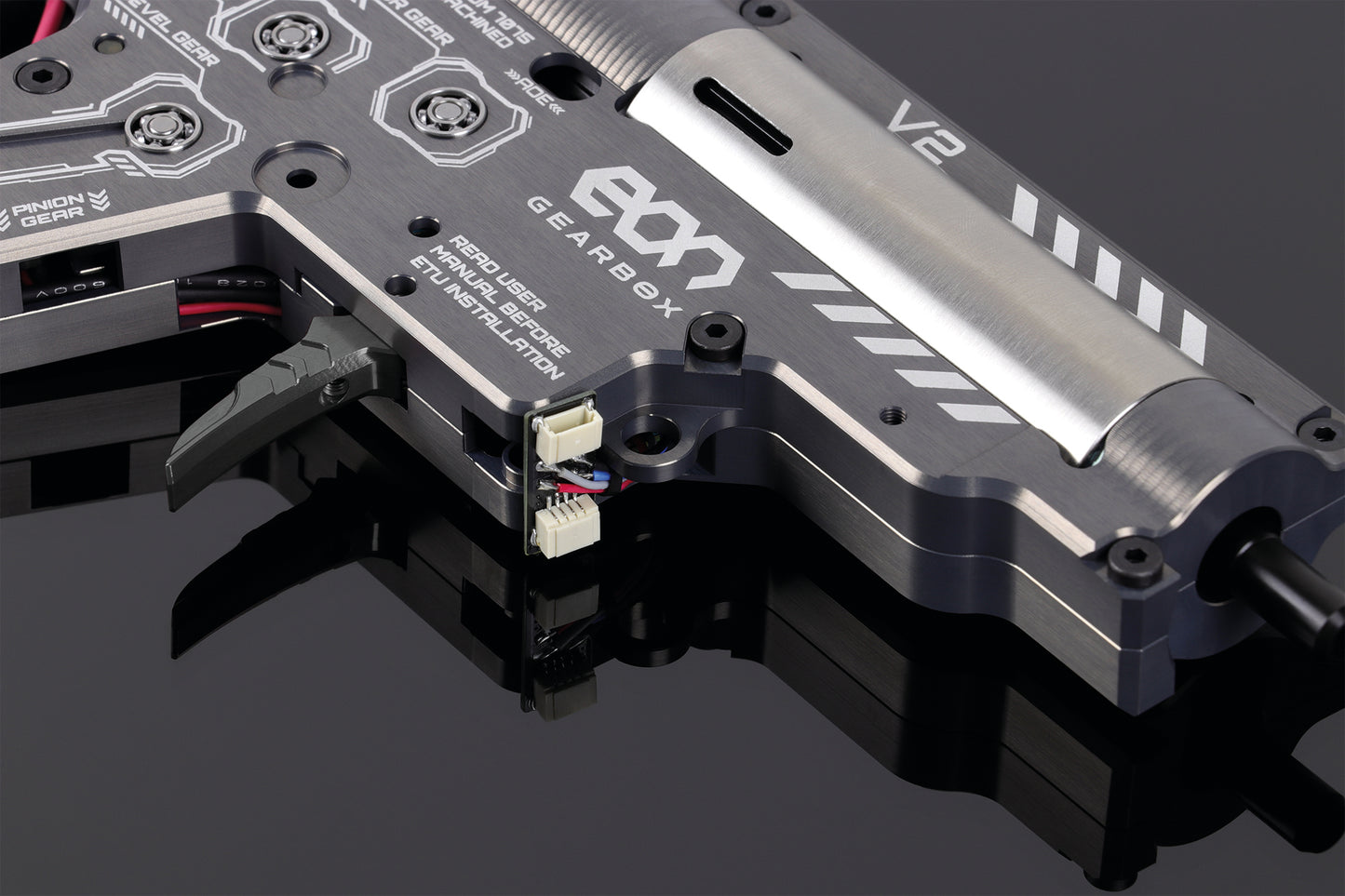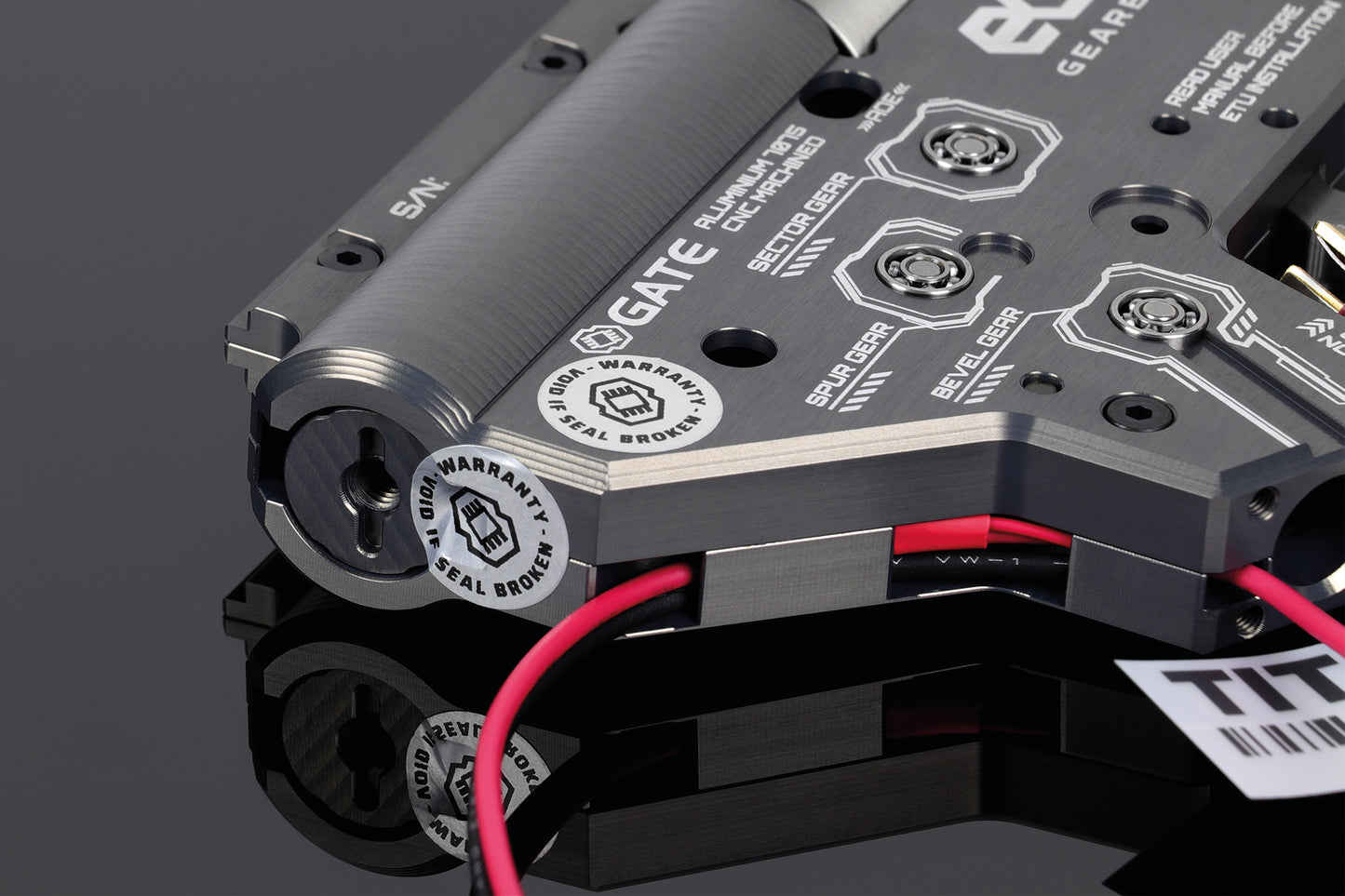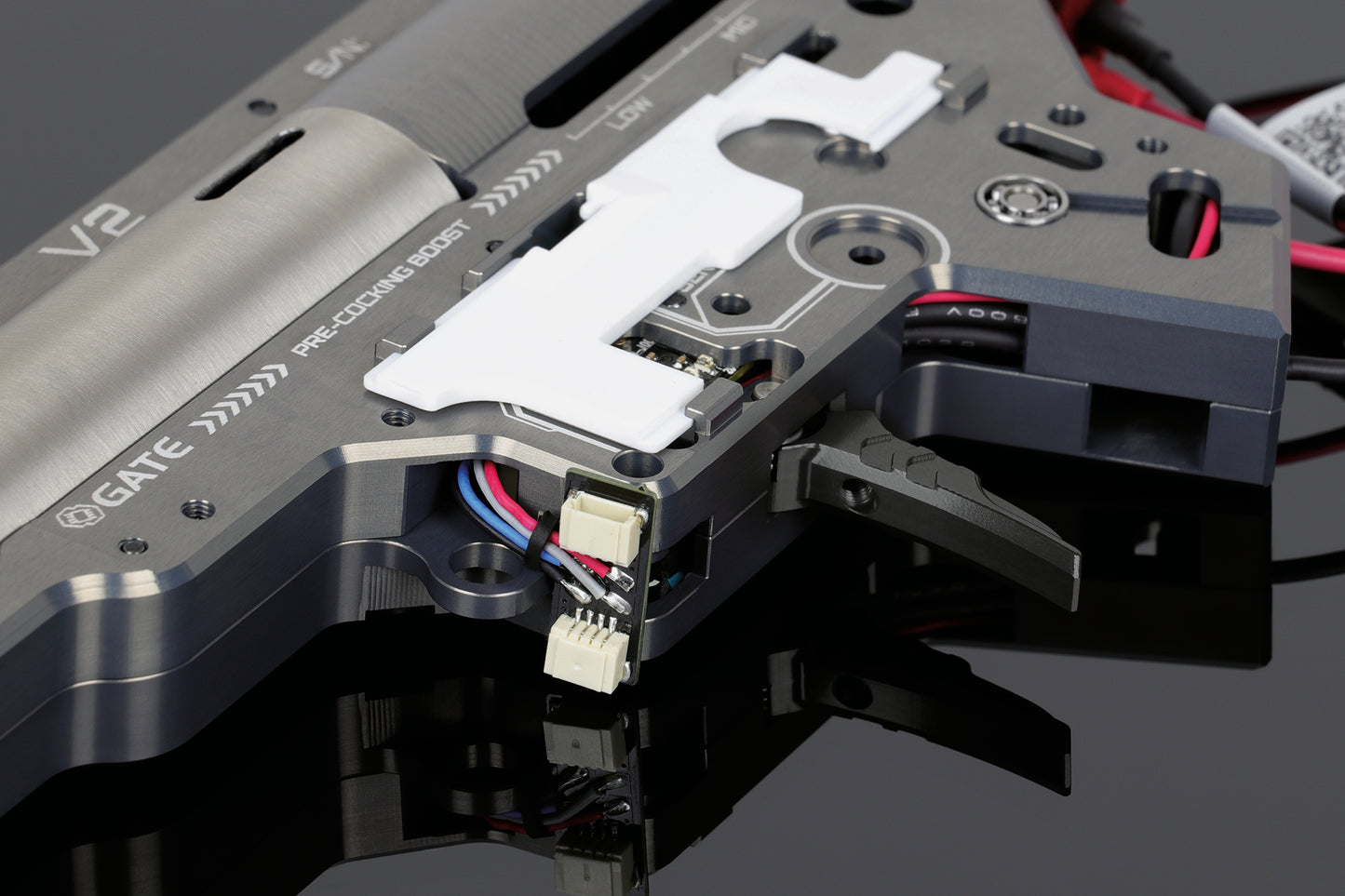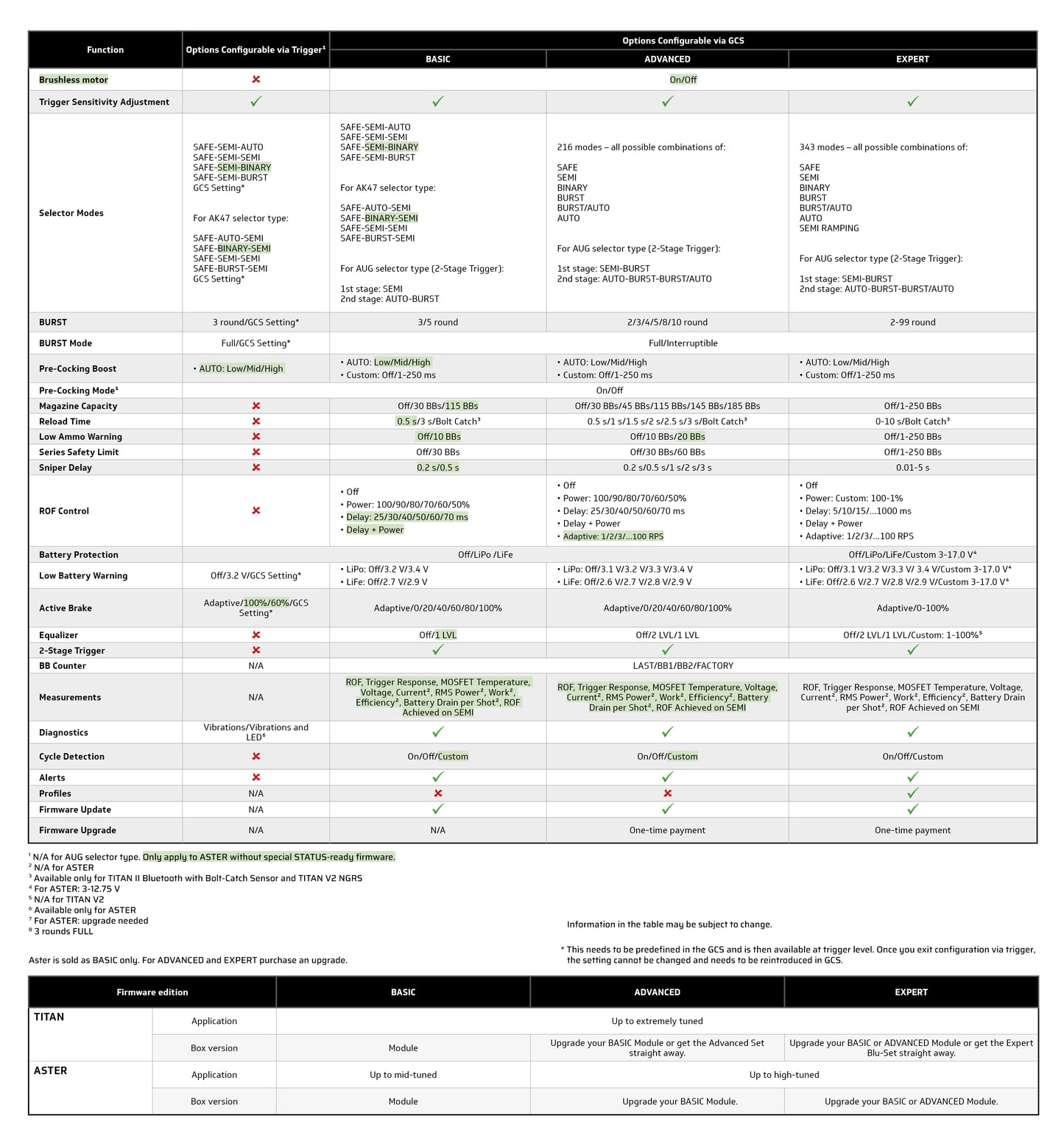 Shipping & Returns
| | | |
| --- | --- | --- |
| Destination | Express shipping via Fedex | Polish National Postal Service |
|  Europe | 2-7 business days | 1-2 weeks |
| Asia | 2-5 business days | not available |
| US/Canada | 2-3 business days | not available |
| Australia | 3-4 business days | not available |
*Please note that the above delivery times may be extended due to custom duty procedure.
1. The Goods purchased in the Online Store are delivered worldwide, subject to territorial restrictions under applicable laws.
2. The Goods are delivered via specialised courier companies or Poczta Polska (the Polish national postal operator). In some cases, the Goods may be personally collected from the Seller's registered office, and in the case of the Goods that represent digital content – they may be downloaded on an appropriate device.
3. The Goods are shipped within 1 to 3 (one to three) business days from payment booking. In some cases, the Goods can be shipped at a later date. This applies also to the Goods sold in advance (pre-sale). In such a case, the Seller shall inform the Client about a shipment date. An approximate shipment delivery date depends on a delivery method selected and a destination country, and is specified at order placement. When selecting a transfer payment option, the delivery time indicated on the Website shall be increased by time needed to credit the Client's entire payment to the Seller's bank account, usually 1-2 (one to two) business days. Further, in the case of countries outside the European Union, due to distance and potential customs controls the delivery time may be prolonged up to 5 weeks.
4. Detailed delivery method information is available in the Online Store in a Cart section of the given Product.
5. The Goods are shipped to an address specified in an order form or provided by phone or by e-mail. The Seller shall promptly inform the Client about the fact that an order form has been filled in incorrectly if this prevents or delays the conclusion of the Sales Agreement or the delivery of the Goods.
6. Prior to the acceptance of shipment from a postal or a courier service, packaging should be checked for any potential damage inflicted in transport. In particular, the condition of tapes or seals placed on the shipment shall be verified. If shipment package shows any signs of damage or if the seals (tapes) are removed, the shipment shall not be accepted, a damage report shall be prepared in the presence of a courier and the Seller shall be contacted as soon as possible in order to clarify the issue. If discrepancies in terms of shipment quantity or quality are not detected at the acceptance, this might adversely affect the resolution of the Client's claims filed due to shipment damage or theft in transport.
7. In the case of the Goods that represent the firmware upgrade of devices distributed by the Seller (digital content), the Client, upon the placement of the Order, conclusion of the Sales Agreement and payment, shall connect to a GATE CONTROL STATION desktop application via a USB-Link or Blu-Link device and install the upgrade purchased.
You may also like
Regular price

57,73 EUR

Sale price

52,48 EUR

Unit price

per

Regular price

160,65 EUR

Sale price

137,92 EUR

Unit price

per

Regular price

32,80 EUR

Sale price

29,51 EUR

Unit price

per